Woodstock Poetry Society
Featured Reading and Open Mike
Saturday, December 10th, 2016 at 2pm
Golden Notebook (Upstairs)

Roberta Gould
Sharon Israel
and Annual Business Meeting

Poets Roberta Gould and Sharon Israel will be the featured readers, along with the WPS Annual Business Meeting and an open mike when the Woodstock Poetry Society & Festival meets at Golden Notebook (Upstairs), 29 Tinker Street on Saturday, December 10th, 2016 at 2pm.

Note: WPS&F meetings are held the 2nd Saturday (2pm) of every month at Golden Notebook (Upstairs).

Golden Notebook (Upstairs)
29 Tinker Street
Woodstock, NY 12498
www.goldennotebook.com
845-679-8000

The reading will be hosted by poet Phillip X Levine. All meetings are free, open to the public, and include an open mike.

*
Features:

Robera Gould - About Roberta Gould's tenth book, To The Dogs, published this year, the poet X. J. Kennedy has written, "At first glance I was skeptical that a whole collection about dogs and cats would work, but she is able to give us poems that succeed and often go deep." The book includes 39 poems and 25 photos of dogs living and mythological.
She began writing poetry in her twenties, has published in several hundred poetry magazines. and in the NY Times, Socialism and Democracy, Catholic Worker, Jewish Currents. Anthologies include Mixed Voices, Milkweed Editions, The Art and Craft of Poetry (ed, Daisy Aldan), Up the River, A Slant of Light. Her books include: Only Rock (Folder Editions), Dream Yourself Flying, (Four Zoas Press), In Houses With Ladders (Waterside Press), Louder Than Seeds (Foothills Publishing). She has done solidarity work in Mexico where she organized a responsible tourism campaign, and she has translated poems from Spanish and Catalan.
She lives in West Hurley and other interests include entomology and photography. Her web site and blog is www.robertagould.net. with information on books, new poems and poems by others.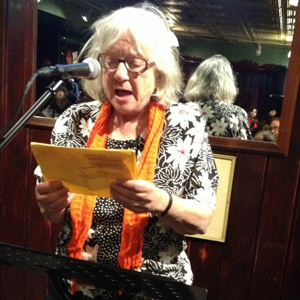 If Sun Hadn't Blissed the Snow

If sun hadn't blissed the snow
the day would have seemed much longer
no shadows no rippling light on the road
and more subtle gradations
into the mountainous distance

But joy is not contingent upon weather
The sun prods smiles to flower
through a yellow car's window
and honking geese cleave a sky's grey monotone,
snow, cloud or sun only the settings
for one day's mysteries

The rain of willow wood near the pond
that may green its life back
when chipmunks dare their eyes up
and light's chord is held,
the sky fading over its mauve sash
in that pause where all things are possible
and wolves used to sing

-Roberta Gould

*

Sharon Israel- Sharon Israel hosts the radio program, Poetry Hour at the Writer's Voice, on WIOX FM, in Roxbury, New York. As a poet and soprano, Sharon collaborates with composer Robert Cucinotta on works for voice, live instruments and electronics and has premiered several of his works in New York. Sharon was an early recipient of Brooklyn College's Leonard Hecht Poetry Explication Award. Her work has most recently appeared in Per Contra, SPANK the CARP, 5:2 Crime Poetry Weekly and the fall 2015 issue of MEDICAL LITERARY MESSENGER.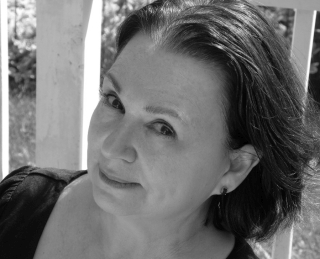 Type Triple A

Plugged into clock time
my heart a metronome
my veins titanium
my brain cloud-linked
my feet careening on kindles
I shout my schedule electric.
Quantum leaping between
paradise and obligation
I hum white lightning
a lost Tesla, mad
with burnt offerings.

-Sharon Israel
Published in SPANK the CARP, Pond 13 (www.spankthecarp.com)

*

Developing WPS 2016 Schedule - all readings at Golden Notebook (Upstairs)

01/January 9th – Christina Lilian Turczyn; Thom Francis
02/February 13th – Annie Christain; Melody Davis
03/March 12th – J. Camp Brown; Raphael Kosek
04/April 9th – Mary Leonard; Robert Milby
05/May 14th – Barbara Adams; Philip Fried
06/June 11th – Jeffrey Davis; Philip Pardi
07/July 9th – Anne Gorrick; George Wallace
08/August 13th – Christi Shannon Kline; Jane Ormerod
09/September 10th – Dennis & Justin Bressack; Judith Saunders
10/October 8th – Katherine Burger; Rebecca Daniels
11/November 12th – Marilyn McCabe; Teresa Costa
12/December 10th – Sharon Israel; TBA and Annual Business Meeting

Also, why not become a 2017 Member of the Woodstock Poetry Society & Festival?

Membership is $20 a year. (To join, send your check to the Woodstock Poetry Society, P.O. Box 531, Woodstock, NY 12498. Include your email address as well as your mailing address and phone number. Or join online at: www.woodstockpoetry.com/become.html). Your membership helps pay for meeting space rental, post-office-box rental, the WPS website, and costs associated with publicizing the monthly events. One benefit of membership is the opportunity to have a brief biography and several of your poems appear on this website.