Woodstock Poetry Society
Featured Reading and Open Mike
Saturday, May 14th, 2016 at 2pm
Golden Notebook (Upstairs)

Barbara Adams
Philip Fried

Poets Barbara Adams and Philip Fried will be the featured readers, along with an open mike when the Woodstock Poetry Society & Festival meets at Golden Notebook (Upstairs), 29 Tinker Street on Saturday, May 14th, 2016 at 2pm.

Note: WPS&F meetings are held the 2nd Saturday (2pm) of every month at Golden Notebook (Upstairs).

Golden Notebook (Upstairs)
29 Tinker Street
Woodstock, NY 12498
www.goldennotebook.com
845-679-8000

The reading will be hosted by poet Phillip X Levine. All meetings are free, open to the public, and include an open mike.

*
Features:

Barbara Adams- Barbara Adams has published three books of poetry, Hapax Legomena and The Ordinary Living, and her 2014 book, Destinations. She has also published a book on an American poet, Laura Riding, The Enemy Self: Poetry & Criticism of Laura Riding. The Stone Man and the Poet, a memoir, was published in 2012.

She won the Robert Frost Foundation Award for Poetry (2007), and the 1999 Negative Capability Fiction Prize for a short story.

Her poems, stories and essays have been published in The Nation, Texas Review, Negative Capability, Confrontation, Chronogram, Dalhousie Review, Rockhurst Review, Riverwind, Modern Poetry Studies, Psychoanalytic Review, etc., and in anthologies by Hudson River poets, Riverine, WaterWrites, and A Slant of Light, and in an Irish-American anthology, The Next Parish Over.

She taught Modern American Literature at Pace University, NY, and retired as Professor Emerita in 2001.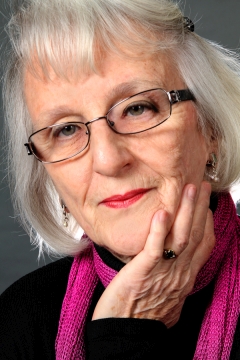 Hell's Gate

Locked in the train that follows the river
To the city where I began,
I am pulled forward,
Reality running backwards
Along the immovable track.

The window is stained with fingerprints,
A palimpsest pressed to glass
Fogged with soot and bad breath.

Under the last bridge,
Melting snow drips in dirty curtains,
The train swerving in the shadow
Where a Teddy Bear waves a soggy paw
From a cave of cast-offs.

The engine slows where the Harlem River
Meets the East River
In a maelstrom—
I stare in terror.
A ferry boat sank in this whirlpool,
The General Slocum, loaded
With a happy holiday crowd—
Whole families tossed overboard,
Babies bobbing like dolls,
Fathers' hats floating, mothers' skirts billowing,
All caught in the current,
Drowning, life preservers crumbling
Like old bread.

The train snakes underground
Into a fetid tunnel lit with torches
Sparks glistening off steel wheels
Carrying us to the end—our ashes swirling
Between Acheron and Hades.

-Barbara Adams

*

Philip Fried- Philip Fried has published six books of poetry. His most recent collection, Interrogating Water (Salmon, 2014), was called "outstanding" by The Guardian and praised for "the valor and vision of its protest." Forthcoming from Salmon in 2016 is a new volume of poetry titled Squaring the Circle.
Web site: Philiphfried.com.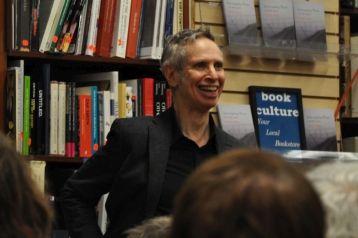 Interrogating Water

Imagine you are interrogating water,
coercing the hydrogen and oxygen
to violate their bonds, give up each other.

Water, a non-state actor,
flows secretly over borders,
precipitates, infiltrates,
gathers in pools, conspires
with bacteria and mosquitoes

You can perform this at home with simple materials.
All you need is a battery, two no. 2 pencils,
salt, thin cardboard, electrical wire, a glass …

Foe of stability,
it erodes in drizzles,
revolts in tsunamis, riots
in floods, and from covert puddles
takes part in uprisings

… of water. Sharpen the pencils at both ends.
Cut the cardboard to fit over the glass.
Insert the pencils in cardboard, an inch apart.

Claims transparency
but under every skin
is another, while fluid rib
over rib will hide the atomic
truth in a wavering cage

Using the wires, connect the tips of each pencil
to opposite poles of the battery, then place
the other ends of the pencils into the water.

Excitable even in teacups
its sloshing shifting mass
can menace levees and dams
heave at the ocean's crust
subverting the Earth's rotation

The molecules will confess in tiny bubbles
of hydrogen and chlorine gas, at the pencil
tips, chlorine masking the fugitive oxygen.

-Philip Fried

*

Developing WPS 2016 Schedule - all readings at Golden Notebook (Upstairs)

01/January 9th – Christina Lilian Turczyn; Thom Francis
02/February 13th – Annie Christain; Melody Davis
03/March 12th – J. Camp Brown; Raphael Kosek
04/April 9th – Mary Leonard; Robert Milby
05/May 14th – Barbara Adams; Philip Fried
06/June 11th – Jeffrey Davis; Philip Pardi
07/July 9th – Anne Gorrick; George Wallace
08/August 13th – Christi Shannon Kline; Jane Ormerod
09/September 10th – Dennis & Justin Bressack; Judith Saunders
10/October 8th – Katherine Burger; Rebecca Daniels
11/November 12th – Marilyn McCabe; Teresa Costa
12/December 10th – Sharon Israel Cucinotta; TBA and Annual Business Meeting

Also, why not become a 2016 Member of the Woodstock Poetry Society & Festival?

Membership is $20 a year. (To join, send your check to the Woodstock Poetry Society, P.O. Box 531, Woodstock, NY 12498. Include your email address as well as your mailing address and phone number. Or join online at: www.woodstockpoetry.com/become.html). Your membership helps pay for meeting space rental, post-office-box rental, the WPS website, and costs associated with publicizing the monthly events. One benefit of membership is the opportunity to have a brief biography and several of your poems appear on this website.