Woodstock Poetry Society
Featured Reading and Open Mike
Saturday, July 9th, 2016 at 2pm
Golden Notebook (Upstairs)

Anne Gorrick
George Wallace

Poets Anne Gorrick and George Wallace will be the featured readers, along with an open mike when the Woodstock Poetry Society & Festival meets at Golden Notebook (Upstairs), 29 Tinker Street on Saturday, July 9th, 2016 at 2pm.

Note: WPS&F meetings are held the 2nd Saturday (2pm) of every month at Golden Notebook (Upstairs).

Golden Notebook (Upstairs)
29 Tinker Street
Woodstock, NY 12498
www.goldennotebook.com
845-679-8000

The reading will be hosted by poet Phillip X Levine. All meetings are free, open to the public, and include an open mike.

*
Features:

Anne Gorrick- Anne Gorrick is a poet and visual artist. She is the author of: A's Visuality (BlazeVOX Books, Buffalo, NY, 2015), I-Formation (Book 2) (Shearsman Books, Bristol, UK, 2012), I-Formation (Book 1) (Shearsman, 2010), and Kyotologic (Shearsman, 2008). She has co-edited (with Sam Truitt) In|Filtration: An Anthology of Innovative Poetry from the Hudson River Valley (Station Hill Press, Barrytown, NY, 2016).

She has collaborated with artist Cynthia Winika to produce a limited edition artists' book called "Swans, the ice," she said with grants through the Women's Studio Workshop in Rosendale, NY, and the New York Foundation for the Arts. She has also collaborated on large textual and/or visual projects with John Bloomberg-Rissman and Scott Helmes.

She curated the reading series, Cadmium Text ( www.cadmiumtextseries.blogspot.com ) and co-curated (with Lynn Behrendt), the electronic journal Peep/Show at www.peepshowpoetry.blogspot.com

Her visual art can be seen at: www.theropedanceraccompaniesherself.blogspot.com

Anne Gorrick lives in West Park, New York.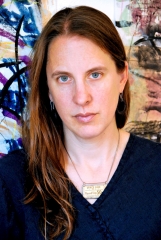 Photo by Elizabeth Bryant
Folio #22 - Twenty Years or Twenty Minutes
December 10, 2009

He is jokingly / referred to as / painting
when work has an insistent / freshness
her new surfaces
were tempered by sand / Lavalette
"(intense ochers, scarlets, greens,
and purples, as well as flesh and blood)" – Johns p. 359
Her personal themes evidently
consisted / of memory
in keeping with his more open / attention
since the early 1980s, their / relationship saw an increase in / traced imagery
a large and expensive hotel suite / in ink on plastic
They found in each other / aggressive hues
Was she the green angel? / He failed to identify his source
He was a dissatisfied interpretation
critics depend heavily on / a priori information
see the Grünewald details / indecipherable
With his face, knowing / often replaced looking / in her opinion
he decided on a less prejudiced / attention / he was an image in his own right

-Anne Gorrick
From A's Visuality (BlazeVOX Books, Buffalo, NY, 2015)

*

George Wallace - George Wallace is writer in residence at the Walt Whitman Birthplace, author of 28 chapbooks of poetry and a co-editor with Great Weather for Media. A frequent performer on the NYC scene and internationally, he has appeared at such venues as the SF Beat Museum, Woody Guthrie Festival, Lowell Celebrates Kerouac, Levyfest, John Steinbeck Center, Howlfest, Shakespeare & Co, Robert Burns Centre and the Dylan Thomas Centre. This summer he appeared at two major European literary festivals – Ledbury, UK and Festival d'Avignon, France -- and was instrumental in creating the National Beat Poetry Festival, which was held nationwide in September.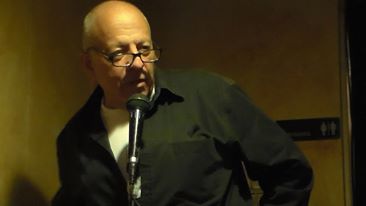 A Short Meditation On Magic & Mushrooms
I'm a blues brother too
on a mission from god
with a secret message
inside an amber jar -- o
where's my head at? it's
been floating in the deep
blue sea since 1493 -- so
I know this shit's gotta
pop & deliver us from
evil because I mean look
how we do, see how we
do it – cling like glue to
heaven's immaculate
door whereas magic &
mushrooms! give 'em
half a chance & share the
ananda I mean don't we all
want to fly? to a place where
sky is influenced by nothing but
sky? I say amen to that do you say
amen to that brothers & sisters --
I mean magic & mushrooms are
love & love is standing in the shadows
of love & always extraordinary –
first time last time holy as buddha
& true angels & the law is nothing
compared to that nothing but a tight pair
of underpants i don't care if there IS a
cop turning the corner you have just got
to move quick boy do some deep blue
calesthenics in the psychedelic sun -- 'no officer!
yes officer! me sir no i have not got no
drugs nor weapons on me officer
where do you even come up with
shit like that I mean I'm just
like you only prettier -- how's
the missus & did you catch
the game' – yes ok i miss the
finer points of jurisprudence
& have a tendency to give it up
for the wrong gods but hell's bells
nobody's perfect besides I know
my magic & mushrooms & have
swum in the mysterious soup
with celestial astronauts

-George Wallace

*

Developing WPS 2016 Schedule - all readings at Golden Notebook (Upstairs)

01/January 9th – Christina Lilian Turczyn; Thom Francis
02/February 13th – Annie Christain; Melody Davis
03/March 12th – J. Camp Brown; Raphael Kosek
04/April 9th – Mary Leonard; Robert Milby
05/May 14th – Barbara Adams; Philip Fried
06/June 11th – Jeffrey Davis; Philip Pardi
07/July 9th – Anne Gorrick; George Wallace
08/August 13th – Christi Shannon Kline; Jane Ormerod
09/September 10th – Dennis & Justin Bressack; Judith Saunders
10/October 8th – Katherine Burger; Rebecca Daniels
11/November 12th – Marilyn McCabe; Teresa Costa
12/December 10th – Sharon Israel Cucinotta; TBA and Annual Business Meeting

Also, why not become a 2016 Member of the Woodstock Poetry Society & Festival?

Membership is $20 a year. (To join, send your check to the Woodstock Poetry Society, P.O. Box 531, Woodstock, NY 12498. Include your email address as well as your mailing address and phone number. Or join online at: www.woodstockpoetry.com/become.html). Your membership helps pay for meeting space rental, post-office-box rental, the WPS website, and costs associated with publicizing the monthly events. One benefit of membership is the opportunity to have a brief biography and several of your poems appear on this website.