Woodstock Poetry Society
Featured Reading and Open Mike
Saturday, October 8th, 2016 at 2pm
Golden Notebook (Upstairs)

Katherine Burger
Rebecca Daniels

Poets Katherine Burger and Rebecca Daniels will be the featured readers, along with an open mike when the Woodstock Poetry Society & Festival meets at Golden Notebook (Upstairs), 29 Tinker Street on Saturday, October 8th, 2016 at 2pm.

Note: WPS&F meetings are held the 2nd Saturday (2pm) of every month at Golden Notebook (Upstairs).

Golden Notebook (Upstairs)
29 Tinker Street
Woodstock, NY 12498
www.goldennotebook.com
845-679-8000

The reading will be hosted by poet Phillip X Levine. All meetings are free, open to the public, and include an open mike.

*
Features:

Katherine Burger - Although primarily a playwright and performer, Katherine has written poetry since childhood. Her poems have been published in Gargolye Magazine, and other, more ephemeral publications. She's been a featured reader at The Medicine Show Theatre's Word Play series, and at the Left Bank Bookstore. Her plays have had productions in Los Angeles, London, Paris, Berlin, and the Westport Country Playhouse in Westport Connecticut, as well as over Radio BBC. Katherine is a member of Ulster County's Actors and Writers, and the BMI Lehman Engel Musical Theater Workshop. She's also a visual artist: katherineburger.net.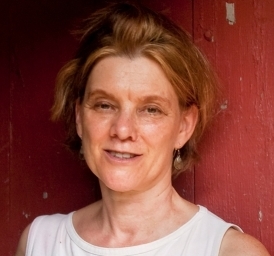 Gone

You know the routine,
you do it well:
braising chops for lunch
raising the children to be self-reliant, clean.
Lending a hand, an ear, a shoulder
- whatever body part they need from you.
You're gracious about it;
no complaints.
You make do with what you have:
the largesse or scant of each year's crop
sealed into jars,
sprigged scraps of outgrown dresses
pieced into coverlets.

And yet.
You have a secret bag already packed.
Only the essentials:
knife, string, sturdy shoes - like that.
Keep it light enough
for the unknown miles ahead.
Stay alert to whatever downshift
in the wind tells you if it's time.
Then - pick up the bag,
Leave now.
Take the children if you must
but they'll be dead weights in the forest
and break your heart.
Better for all
to leave them at the sunny kitchen table,
the oilcloth familiar as your thumb,
drumming their bored heels
against the chairs' rickety struts
until their exasperated father
cooks oatmeal, setting out the blue-rimmed bowls.
An angry cup of tea for him. Black.
He'll figure it out soon enough
– you're gone and won't come back;
captive to the scent of northern pine
on the fickle breeze.
Captive yet free.
Gone.

-Katherine Burger

*

Rebecca Daniels - Rebecca Daniels grew up in Greenwich Village during the 40's and 50's. She moved to Woodstock, NY in 1974. Her arts-related reviews and feature articles were published weekly in the Woodstock Times for 25 years until 2008. During this time, she also had her own business, Writers Support Service. Now retired, Rebecca writes poetry and paints. After five years of focusing on writing haiku, the urge to create longer poems overtook her. Since then, she has workshopped her poems with James Lasdun, Lee Gould, and Susan Sindall. She regularly reads at open mics and meets with peers to critique each other's poetry.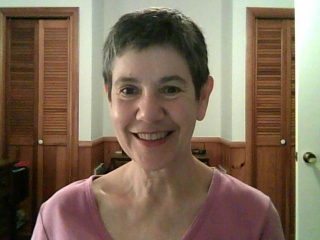 Lost Things

Do you ever find yourself searching
for some inconsequential thing?
like the button to a pink sweater
that you rarely wear?

I used to search for one of those
in recurrent nightmares.
I would find myself in the midst
of a catastrophe—
a flood, a city being bombed, an active volcano—
everyone desperately running for their lives
while I frantically comb
through the scattered debris
for that particular button.
I can't leave without it,
and never do find it.

Even when I'm wide awake
I find myself searching—
for the other old sock,
for yesterday's To Do list,
for things I will promptly throw away
if I find them.
I just want to know where they are
and what happened to them
when I lost track.

-Rebecca Daniels

*

Developing WPS 2016 Schedule - all readings at Golden Notebook (Upstairs)

01/January 9th – Christina Lilian Turczyn; Thom Francis
02/February 13th – Annie Christain; Melody Davis
03/March 12th – J. Camp Brown; Raphael Kosek
04/April 9th – Mary Leonard; Robert Milby
05/May 14th – Barbara Adams; Philip Fried
06/June 11th – Jeffrey Davis; Philip Pardi
07/July 9th – Anne Gorrick; George Wallace
08/August 13th – Christi Shannon Kline; Jane Ormerod
09/September 10th – Dennis & Justin Bressack; Judith Saunders
10/October 8th – Katherine Burger; Rebecca Daniels
11/November 12th – Marilyn McCabe; Teresa Costa
12/December 10th – Sharon Israel Cucinotta; TBA and Annual Business Meeting

Also, why not become a 2016 Member of the Woodstock Poetry Society & Festival?

Membership is $20 a year. (To join, send your check to the Woodstock Poetry Society, P.O. Box 531, Woodstock, NY 12498. Include your email address as well as your mailing address and phone number. Or join online at: www.woodstockpoetry.com/become.html). Your membership helps pay for meeting space rental, post-office-box rental, the WPS website, and costs associated with publicizing the monthly events. One benefit of membership is the opportunity to have a brief biography and several of your poems appear on this website.