Woodstock Poetry Society
Featured Reading and Open Mike
Saturday, November 12th, 2016 at 2pm
Golden Notebook (Upstairs)

Marilyn McCabe
Teresa Costa

Poets Marilyn McCabe and Teresa Costa will be the featured readers, along with an open mike when the Woodstock Poetry Society & Festival meets at Golden Notebook (Upstairs), 29 Tinker Street on Saturday, November 12th, 2016 at 2pm.

Note: WPS&F meetings are held the 2nd Saturday (2pm) of every month at Golden Notebook (Upstairs).

Golden Notebook (Upstairs)
29 Tinker Street
Woodstock, NY 12498
www.goldennotebook.com
845-679-8000

The reading will be hosted by poet Phillip X Levine. All meetings are free, open to the public, and include an open mike.

*
Features:

Marilyn McCabe- Marilyn McCabe's new book of poems, Glass Factory, was published by The Word Works in Spring 2016. Her poem "On Hearing the Call to Prayer Over the Marcellus Shale on Easter Morning" was awarded A Room of Her Own Foundation's Orlando Prize, fall 2012, and appeared in the Los Angeles Review. Her book of poetry Perpetual Motion was published by The Word Works in 2012 as the winner of the Hilary Tham Capitol Collection contest Her work has appeared in literary magazines such as Nimrod, Valparaiso Poetry Review, French translations and songs on Numero Cinq, and a video-poem on The Continental Review. She blogs about writing and reading at marilynonaroll.wordpress.com.
On Hearing the Call to Prayer Over the Marcellus Shale on Easter Morning

How like we are crinoids: lily-like, nervous, as a starfish,
many fingered, prying crevice and fissure,
regrowing arms with every loss. A cry, a crying,
a call out, strange song, predawn trembling.
Through the permeable membrane, air

metes its punishment. An egg,
forgotten, now rotten, its inside resembling something
marbled. Things are seldom as hard as they seem.
I believe in this, called what you will;
and if a prayer can rise me breadlike,

so the day is risen. To walk (yea, though I walk)
a dry streambed, pick and pocket the sparkle of pyrite. Small things
have lain themselves here, becoming in rock the fullness, then
the absence of themselves. A complex equation:

x contains multitudes, contradictions, can be
both positive or negative, influenced one day by the preponderance
of greater than nothing; one day by weight of less than.
How can we solve ourselves, as zero is no answer, and x

resides always in the community of variables?
When everything is about to start, sleepless,
stumbling, stand to praise: Still nest. The hay
gleams as if lit. Emergent: a yellow chair, a red. The pond reach.
A swamp reveals the dead pine, the living moss, even as the man's song ends.

-Marilyn McCabe
first appeared in The Los Angeles Review, Fall 2012.

*

Teresa Costa- Published in Home Planet News Online, Up The River Journal - Albany Poets, A Slant Of Light- An Anthology of Hudson Valley Women Poets - Codhill Press, Riverine - Codhill Press, CAPS (Calling all Poets) Anthology 2016, Home Planet News, amongst many others. Creature Comforts her first book was published by Post Traumatic Press 2013. Costa had appeared all over the Hudson Valley on radio shows, featured readings, open readings, and had done three poetry lectures & workshops on the Beat poets, Jazz poets & avant garde poets at The Seligman Center in Sugar Loaf, NY.

Currently is host of WOMPS: Word Of Mouth Poetry Series, readings are the second Thursday of the month (except Jan & Feb) starting at 7:30 pm @ ART BAR Gallery 674 Broadway Kingston, NY.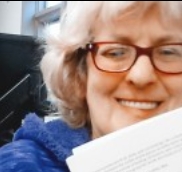 Relief

Unchanged and timid
are those
ecstasies of relief
within a trace
of passionate value.

-Teresa Costa

*

Developing WPS 2016 Schedule - all readings at Golden Notebook (Upstairs)

01/January 9th – Christina Lilian Turczyn; Thom Francis
02/February 13th – Annie Christain; Melody Davis
03/March 12th – J. Camp Brown; Raphael Kosek
04/April 9th – Mary Leonard; Robert Milby
05/May 14th – Barbara Adams; Philip Fried
06/June 11th – Jeffrey Davis; Philip Pardi
07/July 9th – Anne Gorrick; George Wallace
08/August 13th – Christi Shannon Kline; Jane Ormerod
09/September 10th – Dennis & Justin Bressack; Judith Saunders
10/October 8th – Katherine Burger; Rebecca Daniels
11/November 12th – Marilyn McCabe; Teresa Costa
12/December 10th – Sharon Israel Cucinotta; TBA and Annual Business Meeting

Also, why not become a 2016 Member of the Woodstock Poetry Society & Festival?

Membership is $20 a year. (To join, send your check to the Woodstock Poetry Society, P.O. Box 531, Woodstock, NY 12498. Include your email address as well as your mailing address and phone number. Or join online at: www.woodstockpoetry.com/become.html). Your membership helps pay for meeting space rental, post-office-box rental, the WPS website, and costs associated with publicizing the monthly events. One benefit of membership is the opportunity to have a brief biography and several of your poems appear on this website.