Woodstock Poetry Society
Featured Reading and Open Mike
Saturday, September 10th, 2016 at 2pm
Golden Notebook (Upstairs)

Dennis & Justin Bressack
Judith Saunders

Father and son poets Dennis & Justin Bressack and poet Judith Saunders will be the featured readers, along with an open mike when the Woodstock Poetry Society & Festival meets at Golden Notebook (Upstairs), 29 Tinker Street on Saturday, September 10th, 2016 at 2pm.

Note: WPS&F meetings are held the 2nd Saturday (2pm) of every month at Golden Notebook (Upstairs).

Golden Notebook (Upstairs)
29 Tinker Street
Woodstock, NY 12498
www.goldennotebook.com
845-679-8000

The reading will be hosted by poet Phillip X Levine. All meetings are free, open to the public, and include an open mike.

*
Features:

Dennis Wayne Bressack - Dennis Wayne Bressack is a retired dentist who lives in Woodstock, NY with his wife, Abby. They have two sons, Justin and Noah.

A writer for 50 years, he has been a featured reader at many venues in New Jersey, Manhattan and The Mid-Hudson Valley. His essays, short stories, poems and songs have appeared in a variety of publications.

He has self-published seven books of poetry, and produced two CDs of music. His poetry website, www.denniswaynebressack.com, contains samples of his writing and music.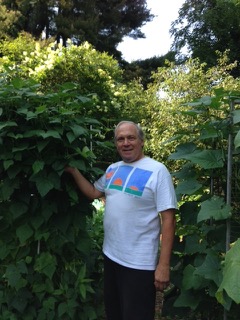 Soaking Wet

I soak in the tub,
sweat beginning to squeeze salt through my pores.

One contemplates life in this environ,
as if it is a reminder of the safety and warmth of mother's womb,
a place to which we always seek to return,
only to be disappointed time and time again.
You can't go back home.

I think man has done little to secure a place in the future of this hurtling sphere in space.

In fact, if anything, man has nearly secured extinction, and earth's future without July 4th fireworks and barbecues.

War, violence and disease are rampant on every shore.
Peace is a 5 letter word made only to broken into pieces.

Tolerance is substituted by bigotry.
The putrid smell of hate is all pervasive.
Love is but a passing quiet thought.


Through my window, I observe bees cavorting, pollinating rhododendron flowers and I feel hope.

After all, that process will continue despite our best eradication efforts.

-Dennis Wayne Bressack

*

Justin Bressack - Justin Bressack, who is from Woodstock, NY, is in his 2nd year of graduate school at the Albany College of Pharmacy and Health Sciences. He has been writing poetry for several years and has been reading his work in the Mid-Hudson Valley for the past year.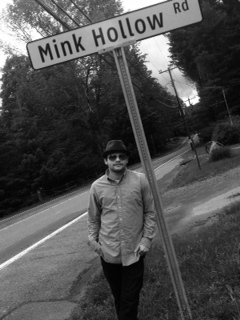 I want to become that squirm in your stomach, that dizziness in your head, that clench around you heart.
I want to write things that make you cry, that make you laugh, that make you scared, that make you brave.
I want to humanize you, strip you naked and show you how beautiful your vulnerability is. I don't want you to read my words, I want you to read your mind.
I want you to feel death in the presence of life and to cherish life in the presence of death.
Do not hold my hands, hold my letters, for they will bring you more comfort than my cold fingers ever could.

-Justin Bressack

*

Judith Saunders- During the past twenty-five years Judith Saunders has published poetry, humor, and creative nonfiction in a wide variety of little magazines and literary journals. Her work has appeared, for example, in The Mathematical Intelligencer, Snowy Egret, Chiron Review, Blue Unicorn, The Gay and Lesbian Review, The Christian Science Monitor, and The North American Review. She is the author of two prize-winning poetry chapbooks (Panhandler and Red Berry). She will read from her most recent collections, Seizing this Chance (Kattywompus Press 2014) and Lost Partners (FutureCycle Press 2015).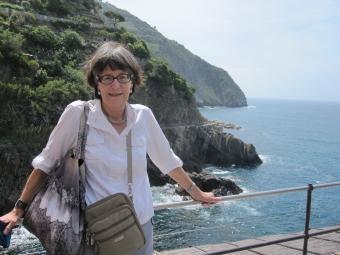 Seashore Cartoon
[ballpoint pen, notebook paper]

To replace the carrying sack—
somehow gone missing—
for our purple beach umbrella
you brought home a gun-case.
Hauling our gear from car to beach
at Herring Cove, far end,

wearing khaki sun-hats
with jutting brims and neck-flaps,
Foreign Legion fashion,
we looked like terrorists
on holiday. You sketched us
sternly marshaling cooler,

towels, canvas chairs,
umbrella (snug as a rifle
in its brand-new pouch)
—prepared, evidently,
to defend to the hilt
one quilt-sized swatch of sand.

-Judith Saunders
[Reprinted with permission of FutureCycle Press and The Gay and Lesbian Review]

*

Developing WPS 2016 Schedule - all readings at Golden Notebook (Upstairs)

01/January 9th – Christina Lilian Turczyn; Thom Francis
02/February 13th – Annie Christain; Melody Davis
03/March 12th – J. Camp Brown; Raphael Kosek
04/April 9th – Mary Leonard; Robert Milby
05/May 14th – Barbara Adams; Philip Fried
06/June 11th – Jeffrey Davis; Philip Pardi
07/July 9th – Anne Gorrick; George Wallace
08/August 13th – Christi Shannon Kline; Jane Ormerod
09/September 10th – Dennis & Justin Bressack; Judith Saunders
10/October 8th – Katherine Burger; Rebecca Daniels
11/November 12th – Marilyn McCabe; Teresa Costa
12/December 10th – Sharon Israel Cucinotta; TBA and Annual Business Meeting

Also, why not become a 2016 Member of the Woodstock Poetry Society & Festival?

Membership is $20 a year. (To join, send your check to the Woodstock Poetry Society, P.O. Box 531, Woodstock, NY 12498. Include your email address as well as your mailing address and phone number. Or join online at: www.woodstockpoetry.com/become.html). Your membership helps pay for meeting space rental, post-office-box rental, the WPS website, and costs associated with publicizing the monthly events. One benefit of membership is the opportunity to have a brief biography and several of your poems appear on this website.