Woodstock Poetry Society
Featured Reading and Open Mike
Saturday, March 12th, 2016 at 2pm
Golden Notebook (Upstairs)

J. Camp Brown
Raphael Kosek

Poets J. Camp Brown and Raphael Kosek will be the featured readers, along with an open mike when the Woodstock Poetry Society & Festival meets at Golden Notebook (Upstairs), 29 Tinker Street on Saturday, March 12th, 2016 at 2pm.

Note: WPS&F meetings are held the 2nd Saturday (2pm) of every month at Golden Notebook (Upstairs).

Golden Notebook (Upstairs)
29 Tinker Street
Woodstock, NY 12498
www.goldennotebook.com
845-679-8000

The reading will be hosted by poet Phillip X Levine. All meetings are free, open to the public, and include an open mike.

*
Features:

J. Camp Brown - I have received fellowships from Phillips Exeter Academy, where I was the George Bennett Writer-in-Residence, from Ole Miss, where I was a Grisham Fellow, from the Univ. of Arkansas, where I took my MFA, and from the Arkansas Arts Council. My poems have appeared in Crazyhorse, Black Warrior Review, Shenandoah, Spillway, Sonora Review, Epiphany, Rhino, and elsewhere. Hailing from Fort Smith, AR, I now play mandolin, sing tenor, and teach English in Poughkeepsie, NY.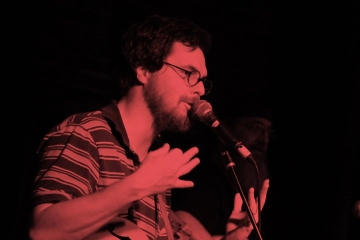 Cartography is Not the Absence of War

Not by dead reckoning, but by chain
and theodolite, for if one
starts with I reckon, then they

is lost. Not by chained dogs,
though the reach of snarls
delineates, around stakes, circles,

but by triangles. By gores. The angle
up against spirit level. By sine,
height. By altitude, hachures.

Not kedged by North Star, but
by magnetic north:—the compass rose
and the winds, four-cornered marginalia

of cloud-cheeked cherubim.
Not flag. Not fenceline. Not even
the map. But cartography.

Not high ground. Not cover. Not supply line.
Not surprise attack. But mountain.
Forest. River. Narrow gap.

-J. Camp Brown
originally appeared in Crazyhorse

*

Raphael Kosek - Raphael Kosek's poetry has appeared in numerous journals and magazines including Still Point Arts Quarterly, Commonweal, Big Muddy, The Chattahoochee Review, and Catamaran. She is a life-long Hudson Valley resident where she graduated from Vassar College and now teaches American lit and creative writing at Marist College and SUNY Dutchess Community College. Arts Mid-Hudson has twice awarded her fellowships for her poetry, and her poems have placed first, second and been shortlisted in international contests. Her 2009 chapbook, Letting Go, was published by Finishing Line Press, and her new chapbook about art and life, Rough Grace, won the 2014 Concrete Wolf Chapbook Competition. She has written and published many ekphrastic poems, finding inspiration in the paintings of Homer, Rousseau, Inuit stone cut prints, and many others.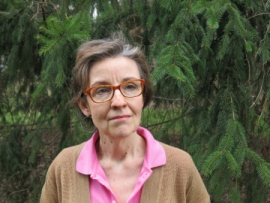 Caribou Resting 2010
Inuit stone cut stencil Kananginak Pootoogook

The two caribou ground me
frozen in their stone-cut repose
brown and white on sea-grey background,
one floating above the other, perspective
be damned.

Legs, folded neatly underneath
elegant bodies of speckled brown;
one looks behind, another
to the east, and I imagine the sun
rising before their unblinking
eyes, the tundra awash in early light.

I want to read them like
a book of hours, to clear the frost
from my brain, the rushing world
that seizes me with its stuttering cities,
the choke of dark and busy words.
I want the clarity of cold, the still
warm indentation their bodies must leave
in the snow, the musky animal scent
that means a different life
than this one. Let them
unfold their legs carefully

and raise the warm breathing
torsos up, rump first; the sickled legs
unbending, all grace as they wend
away, swift and soft, like currents
of snowed air. And let me

feel the clear mind
of the one whose steady hand
could balance them
just so
on my calendar of days.

-Raphael Kosek
Coal Hill Review Vol. 16: Summer 2015

*

Developing WPS 2016 Schedule - all readings at Golden Notebook (Upstairs)

01/January 9th – Christina Lilian Turczyn; Thom Francis
02/February 13th – Annie Christain; Melody Davis
03/March 12th – J. Camp Brown; Raphael Kosek
04/April 9th – Mary Leonard; Robert Milby
05/May 14th – Barbara Adams; Philip Fried
06/June 11th – Jeffrey Davis; Philip Pardi
07/July 9th – Anne Gorrick; George Wallace
08/August 13th – Christi Shannon Kline; Jane Ormerod
09/September 10th – Dennis & Justin Bressack; Judith Saunders
10/October 8th – Katherine Burger; Rebecca Daniels
11/November 12th – Marilyn McCabe; Teresa Costa
12/December 10th – Sharon Israel Cucinotta; TBA and Annual Business Meeting

Also, why not become a 2016 Member of the Woodstock Poetry Society & Festival?

Membership is $20 a year. (To join, send your check to the Woodstock Poetry Society, P.O. Box 531, Woodstock, NY 12498. Include your email address as well as your mailing address and phone number. Or join online at: www.woodstockpoetry.com/become.html). Your membership helps pay for meeting space rental, post-office-box rental, the WPS website, and costs associated with publicizing the monthly events. One benefit of membership is the opportunity to have a brief biography and several of your poems appear on this website.