Woodstock Poetry Society
Featured Reading and Open Mike
Saturday, January 9th, 2016 at 2pm
Golden Notebook (Upstairs)

Christina Lilian Turczyn
Thom Francis

Poets Christina Lilian Turczyn and Thom Francis will be the featured readers, along with the WPS Annual Business Meeting and an open mike when the Woodstock Poetry Society & Festival meets at Golden Notebook (Upstairs), 29 Tinker Street on Saturday, January 9th, 2016 at 2pm.

Note: WPS&F meetings are held the 2nd Saturday (2pm) of every month at Golden Notebook (Upstairs).

Golden Notebook (Upstairs)
29 Tinker Street
Woodstock, NY 12498
www.goldennotebook.com
845-679-8000

The reading will be hosted by poet Phillip X Levine. All meetings are free, open to the public, and include an open mike.

*
Features:

Christina Lilian Turczyn- Christina Lilian Turczyn, Fulbright Scholar, received her B. A. in English from Cornell, and her Ph.D. in English/Creative Writing from Binghamton University. She has taught critical and creative writing at William Paterson University, at SUNY--New Paltz, and at Dutchess Community College, among other institutions.

Currently a freelance writer and visual artist, Christina has, in the past five years, contributed watercolors to twenty exhibits. Those include ArtPride New Jersey's "Facebook Friends Gallery," the Cornell Club of New York's "Cornell Has Talent," as well as the regional juried competition sponsored by the Ridgewood Art Institute. In 2011, Christina attended the College Art Association's National Professional Development Workshop for Artists in Trenton, NJ.

Her writing honors include an Intro Award in Poetry from the Associated Writing Programs, first prize in the Allen Ginsberg Poetry Awards (noted in The New York Times) and first prize in Vanguard Voices of the Hudson Valley. She received honorable mention in the Rita Dove National Poetry Awards (Salem College Center for Women Writers) and was a "Poet among Us" at the 2002 Geraldine R. Dodge Poetry Festival, with Richard Blanco, Ken Waldman, and Shayla Hawkins.

The Yara Arts Group, a resident company at the La MaMa Experimental Theatre, has performed her poetry in New York City over the years at the Fletcher-Sinclair Mansion of the Metropolitan Museum Historic District. A most recent festival titled "Re-Imagine Ourselves" received outstanding reviews from New York Arts: The International Guide to the Art World. Interdisciplinary work was featured in a faculty exhibit at the Samuel Dorsky Museum of Art in New Paltz, NY. Christina was also awarded several writing residencies to the Vermont Studio Center.

Scholarly work appears in Multiple Intelligences, Howard Gardner, and New Methods of College Teaching, ed. Clyde Coreil, in the publications of Dutchess Community College, and in the Paterson Literary Review. Conference presentations include the Conference on College Composition and Communication (2006) and the "Innovative Methods of Teaching in Higher Education Conference" at New Jersey City University (2001) designated as a "national leadership conference." Just this November, Christina led a roundtable at the Fulbright Association's Pathways to Peace: Global Peace, Health, and Education Conference in Atlanta.

Christina was also a recipient of NJSCA and Dodge Foundation Fellowships to attend the Artist/Teacher Institute of New Jersey in 1998 and in 2000, where she had the privilege of meeting dedicated artists in education. While at Dutchess Community College, she twice received the Educational Opportunity Program's "Above and Beyond" Certificate for outstanding dedication to the program.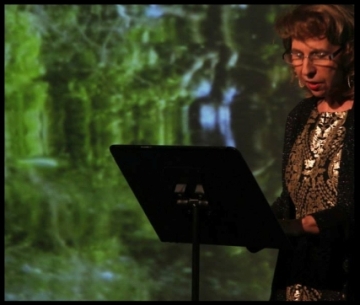 photo by Alexander Khantaev (Yara Arts Group)
Art Institute
For Yewande

The final party took place outdoors:
Here, the jitterbug;
farther off, the poets doing break dance. The dancers in ballet
lifted us up as though we were helium girls.
We were weightless, then—our mistakes
much lighter than our joy.
It was not about forgetting,
but about sparks
leaving the body, like scars.
It was about fury; it was about tattoos,
about blows carving the body's tree,
about history.
We all danced harder and harder.
We laughed, carving banks into stone.
Who knew then, that you would die this year,
calling us Igbo poems,
while in the fourth dimension of sorrow,
unafraid, and powerful as water,
you caught words.

-Christina Lilian Turczyn

*

Thom Francis- Thom Francis is the president of Albany Poets (www.albanypoets.com) and has been organizing, promoting, and hosting open mics and poetry / spoken word events in Albany, NY such as Nitty Gritty Slam, School of Night, Albany Poets Presents, and the Albany Word Fest for over 15 years. As a poet and performer, Thom has been featured at many the upstate poetry and spoken word events from Saratoga to Woodstock as well as community events – 1st Friday, Art on Lark, and LarkFest.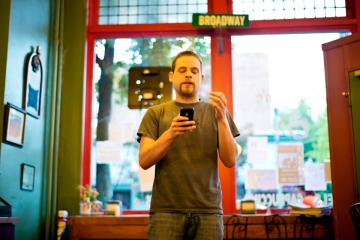 Listerine

The smell of listerine on my fathers breath meant
he was heading off to work for the day

That same smell of mouth wash on my mothers breath meant
dad was on his way and it was time to hide the evidence.

She wore perfume to mask what
she was up to while he was gone

He chain smoked with the windows up in his car
to hide another woman's scent

He showers before and after all his appointments
and he is never clear as to where he's been
you can only golf so many days a week
without being on the PGA tour

She scrubs her flesh under scalding water
trying to get to the clean parts and reclaim that fresh innocence
each time she strays away
physically or not

She never wants this to end
this is what she has been told is right and true
she is meant to be here waiting for him, hoping for more

He never wants this to end
this is what he's been telling her is right and true
he is destined for greatness and she must be ready for the ride

-Thom Francis


*

Developing WPS 2016 Schedule - all readings at Golden Notebook (Upstairs)

01/January 9th – Christina Lilian Turczyn; Thom Francis
02/February 13th – Annie Christain; Melody Davis
03/March 12th – J. Camp Brown; Raphael Kosek
04/April 9th – Mary Leonard; Robert Milby
05/May 14th – Barbara Adams; Philip Fried
06/June 11th – Jeffrey Davis; Philip Pardi
07/July 9th – Anne Gorrick; George Wallace
08/August 13th – Christi Shannon Kline; Jane Ormerod
09/September 10th – Dennis & Justin Bressack; Judith Saunders
10/October 8th – Katherine Burger; Rebecca Daniels
11/November 12th – Marilyn McCabe; Teresa Costa
12/December 10th – Sharon Israel Cucinotta; TBA and Annual Business Meeting

Also, why not become a 2016 Member of the Woodstock Poetry Society & Festival?

Membership is $20 a year. (To join, send your check to the Woodstock Poetry Society, P.O. Box 531, Woodstock, NY 12498. Include your email address as well as your mailing address and phone number. Or join online at: www.woodstockpoetry.com/become.html). Your membership helps pay for meeting space rental, post-office-box rental, the WPS website, and costs associated with publicizing the monthly events. One benefit of membership is the opportunity to have a brief biography and several of your poems appear on this website.