Woodstock Poetry Society
Featured Reading and Open Mike
Saturday, November 14th, 2015 at 2pm
Golden Notebook (Upstairs)

Lisa Wiley
Marcia Slatkin

Poets Lisa Wiley and Marcia Slatkin will be the featured readers, along with an open mike when the Woodstock Poetry Society & Festival meets at Golden Notebook (Upstairs), 29 Tinker Street on Saturday, November 14, 2015 at 2pm. Note: WPS&F meetings are held the 2nd Saturday of every month at Golden Notebook (Upstairs).

Note the venue - we will be at Golden Notebook (Upstairs) for this reading and throughout 2015. Thanks Jacqueline, and all at Golden Notebook.

Golden Notebook (Upstairs)
29 Tinker Street
Woodstock, NY 12498
www.goldennotebook.com
845-679-8000

Woodstock Poetry Society & Festival as part of the Woodstock Arts Consortium is sponsoring this poetry event as part of the Woodstock "Second Saturdays" Art Events. For a full listing of "Second Saturday" events, see: www.artsinwoodstock.org.

The reading will be hosted by poet Phillip X Levine. All meetings are free, open to the public, and include an open mike.

*
Features:
Marcia Slatkin - Former English teacher, farmer, care-gover. Marcia Slatkin's two poetry books, A Woman Milking: Barnyard Poems, and NOT YET: A Healing Journey through Alzheimer's Care-Giving, are available on Amazon. Her most recent book, OP-ED: Earth, often uses dramatic monologue to deal with climate change. A writer of both plays and stories in addition to poetry, she also does photo collage, plays cello, and lives in Rhinebeck with her life-partner Dan.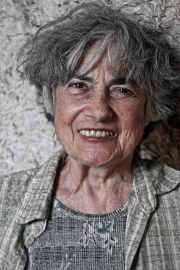 Paternal acceptance

"We feel relief as orbiting junk hurtles by
and we are not hit…"
-Intl Herald Tribune, 2011."

"I don't mind, really.
There is so much of me to fill.
If I had a precise aesthetic
or were easily offended,
I would hate what they heave.
'Only my nine, and the moons
circling each,' I'd insist.

"But for me, the debris
is a curiosity. I learn human terms
as they release new stuff
to clutter me with. Since sputnik #1,
half-million lumps of detritus
have been dumped.

"Luckily, I am so big
these cause me little pain –
less than a pebble in your shoe,
a splinter, or dust in your eye.
I shake myself as would a wet dog
drying, and go about my life.

"Indeed, I watch their antics as a parent
views a child's first drawing trials,
the crayon clumsily grasped within
that chubby hand that later wipes
snot from a nose, or lets a tongue
lick lingering sweetness left
from earlier lunch.

"And like a good father,
I tell them not to fight…"

-Marcia Slatkin

*

Lisa Wiley - Lisa Wiley teaches English at Erie Community College in Buffalo, NY. She recently released her second collection My Daughter Wears Her Evil Eye to School (The Writer's Den, 2015). She is also the author of a chapbook of 21 villanelles Chamber Music (Finishing Line Press, 2013). Her poetry has appeared in The Healing Muse, Medical Journal of Australia, Mom Egg Review, Rockhurst Review, Yale Journal for Humanities in Medicine and others.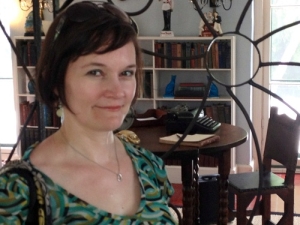 Laura Ingalls Opts Out
Of New York State Tests

Carefully parting her chestnut hair,
she divides each side into three neat sections —

those trademark pigtails woven in a minute.
When her classmates scratch

with their sharp No. 2 pencils
gripping them tighter,

my daughter dances
on the Banks of Plum Creek.

-Lisa Wiley

#

My Daughter Wears Her Evil Eye To School

It stares at me —
white dots on smooth cobalt,
a foreign ladybug.

She pulls back her silky hair
while I clasp the sterling silver chain,
dangling pearl-size mati.

We're not Greek, Turkish or Lebanese—
yet Oma thought to bring my daughter
this charm from Tarpon Springs,

scenic shore of her sponge-dive trip.
I wonder why she removes it
from her white-shell box this morning.

Does it match her ruffled skirt
or does she crave extra protection?
Last time she sat next to Jordan,

she wrote Please change my seat
at the bottom of her spelling test.
Her voice gathers like a restless wind,

stronger than mine, making more
of her own choices every day.
Unassuming accessory or fierce shield,

my surrogate eye deflects
whatever weighs her down,
catches the light under her chin.

-Lisa Wiley

***

Developing 2015 Schedule all readings at Golden Notebook (Upstairs)

01/January 10th – Ken Holland; Perry S. Nicholas (postponed)
02/February 14th – Cheryl Rice; Glenn Werner
03/March 14th – Leonard Brown; Perry S. Nicholas
04/April 11th – Richard Parisio; Sabrina Miller
05/May 9th – Christian Ortega; Victoria Sullivan
06/June 13th – Andy Clausen; Pamela Twining
07/July 11th – Donald Lev; Lucia Cherciu
08/August 8th – Kathy Z. Price; Sharon Gannon
09/September 12th – Kenneth Salzmann; Susan Hoover
10/October 10th – Barbara Ungar; John Amen
11/November 14th – Lisa Wiley; Marcia Slatkin
12/December 12th – George Wallace; Mark Statman and Annual Business Meeting
Also, why not become a 2015 Member of the Woodstock Poetry Society & Festival?
Membership is a nominal $15 a year. (To join, send your check to the Woodstock Poetry Society, P.O. Box 531, Woodstock, NY 12498. Include your email address as well as your mailing address and phone number. Or join online at: www.woodstockpoetry.com/become.html). Your membership helps pay for meeting space rental, post-office-box rental, the WPS website, and costs associated with publicizing the monthly events. One benefit of membership is the opportunity to have a brief biography and several of your poems appear on this website.