Woodstock Poetry Society
Featured Reading and Open Mike
Saturday, October 10th, 2015 at 2pm
Golden Notebook (Upstairs)

Barbara Ungar
John Amen

Poets Barbara Ungar and John Amen will be the featured readers, along with an open mike when the Woodstock Poetry Society & Festival meets at Golden Notebook (Upstairs), 29 Tinker Street on Saturday, October 10, 2015 at 2pm. Note: WPS&F meetings are held the 2nd Saturday of every month at Golden Notebook (Upstairs).

Note the venue - we will be at Golden Notebook (Upstairs) for this reading and throughout 2015. Thanks Jacqueline, and all at Golden Notebook.

Golden Notebook (Upstairs)
29 Tinker Street
Woodstock, NY 12498
www.goldennotebook.com
845-679-8000

Woodstock Poetry Society & Festival as part of the Woodstock Arts Consortium is sponsoring this poetry event as part of the Woodstock "Second Saturdays" Art Events. For a full listing of "Second Saturday" events, see: www.artsinwoodstock.org.

The reading will be hosted by poet Phillip X Levine. All meetings are free, open to the public, and include an open mike.

*
Features:

Barbara Ungar - Barbara Ungar has published four books of poetry, most recently Immortal Medusa and Charlotte Brontë, You Ruined My Life, both Hilary Tham selections from The Word Works. Her prior books are Thrift and The Origin of the Milky Way, which won the Gival Press Poetry Award, a silver Independent Publishers award, a Hoffer award, and the Adirondack Center for Writing poetry award. She has published poems in Salmagundi, Rattle, Chronogram, The Nervous Breakdown, and many others. A professor of English at the College of Saint Rose in Albany, she directs their new MFA program. She lives in Saratoga Springs, NY. For more information, please visit www.BarbaraUngar.net.
Immortal Medusa
Turritopsis dornii,
the size of a pinky
nail, a berry or
blossom in a clear
bell jar trailing
medusa-hair.
Of all the animals,
only this tiny jellyfish
can do what we only
dream: grow younger.
Tentacles resorb,
umbrella reverts,
medusa reattaches
to the ocean floor
and grows a new
colony of polyps
that bud into
identical medusae,
bypassing death.
From the Caribbean,
they've taken ship,
a worldwide silent invasion.
Half a billion years old,
sans brains, bones or breath,
they can do this forever.
-Barbara Ungar
*
John Amen - John Amen is the author of five collections of poetry: Christening the Dancer, More of Me Disappears, At the Threshold of Alchemy, The New Arcana (with Daniel Y. Harris), and, most recently, strange theater (released by New York Quarterly Books in March 2015). His work has appeared in journals nationally and internationally and been translated into Spanish, French, Hungarian, Korean, and Hebrew. In addition, he has released two folk/folk rock CDs: All I'll Never Need and Ridiculous Empire. He is also an artist, working primarily with acrylics on canvas. Further information is available on his website: www.johnamen.com. John travels widely giving readings, doing musical performances, and conducting workshops. He founded and continues to edit The Pedestal Magazine (www.thepedestalmagazine.com).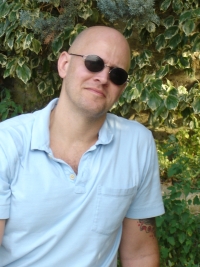 self-portrait twilight on a Thursday
for Frederic Tuten
yr hand slides down the banister
it's 2001 you cough
10 more years pass
the doctor says everything's ok
clocks become decorative
you walk by them as you would any other still life
miniature men in the tributaries
outside the town where you grew up
go on panning the ripples of sin
stumbling towards an altar
no longer there
you grab for pages in the sky
don't worry someone'll say
these reactions are common
the primary colors of this theatrical extravaganza
you smell a storm coming
corral the animals
get the ark primed & ready for sailing
towards open sea you glance back
stone idols perched on distant cliffs
white shirts hanging in the evergreens
you sense that something important happened there on the shore
but new voices are calling
& already the old world is barely familiar
-John Amen
***
Developing 2015 Schedule all readings at Golden Notebook (Upstairs)
01/January 10th – Ken Holland; Perry S. Nicholas (postponed)
02/February 14th – Cheryl Rice; Glenn Werner
03/March 14th – Leonard Brown; Perry S. Nicholas
04/April 11th – Richard Parisio; Sabrina Miller
05/May 9th – Christian Ortega; Victoria Sullivan
06/June 13th – Andy Clausen; Pamela Twining
07/July 11th – Donald Lev; Lucia Cherciu
08/August 8th – Kathy Z. Price; Sharon Gannon
09/September 12th – Kenneth Salzmann; TBA
10/October 10th – Barbara Ungar; John Amen
11/November 14th – Marcia Slatkin; TBA
12/December 12th – George Wallace; TBA and Annual Business Meeting

Also, why not become a 2015 Member of the Woodstock Poetry Society & Festival?
Membership is a nominal $15 a year. (To join, send your check to the Woodstock Poetry Society, P.O. Box 531, Woodstock, NY 12498. Include your email address as well as your mailing address and phone number. Or join online at: www.woodstockpoetry.com/become.html). Your membership helps pay for meeting space rental, post-office-box rental, the WPS website, and costs associated with publicizing the monthly events. One benefit of membership is the opportunity to have a brief biography and several of your poems appear on this website.