Woodstock Poetry Society
Featured Reading and Open Mike
Saturday, April 11th, 2015 at 2pm
Golden Notebook (Upstairs)

Richard Parisio
Sabrina Miller

Poets Richard Parisio and Sabrina Miller will be the featured readers, along with an open mike when the Woodstock Poetry Society & Festival meets at Golden Notebook (Upstairs), 29 Tinker Street on Saturday, April 11, 2015 at 2pm. Note: WPS&F meetings are held the 2nd Saturday of every month at Golden Notebook (Upstairs).

Note the venue - we will be at Golden Notebook (Upstairs) for this reading and throughout 2015. Thanks Jacqueline, and all at Golden Notebook.

Golden Notebook (Upstairs)
29 Tinker Street
Woodstock, NY 12498
www.goldennotebook.com
845-679-8000

Woodstock Poetry Society & Festival as part of the Woodstock Arts Consortium is sponsoring this poetry event as part of the Woodstock "Second Saturdays" Art Events. For a full listing of "Second Saturday" events, see: www.artsinwoodstock.org.

The reading will be hosted by poet Phillip X Levine. All meetings are free, open to the public, and include an open mike.

*
Features:

Sabrina Miller - Originally hailing from a small town in Oklahoma, where sunsets glisten over vast horizons, gypsum plateaus and miles of desert sand, Sabrina Miller (aka Sparkle Poetess) discovered poetry as a means of expressing and understanding her harrowing experiences growing up as a lesbian and an artist in a burnt out, Midwest, desert town. Her first poem was written on the night of September 11th, 2001 after sitting in her classroom watching the Twin Towers fall on the television, "There was no room for masks that day. I remember coming home after seeing people jump hundreds of stories out of the skyscrapers, and watching massive structures completely disappear in a plume of smoke and fire as a wall of debris would sweep across the city. As a young child sensing a disturbing unease in everyone around me, something intense happened within me, and I knew I had to do something. The only thing that made sense was words – so I wrote."
Her writing takes the reader into a realm of lucid visual imagery, nurturing an open exploration and internal dialogue through a wide spectrum of human emotions. Her experiences as a creative spirit in a place void of artistic culture would cultivate a passion to transform the landscape around her, "I would walk down the streets of my small town looking into the eyes of all the beings that crossed my path. There were no dreams, no desires; nothing. It infused me with a renewed sense of appreciation and love for the transformative and uplifting qualities of art. I would go out into fields of sunflowers with my pen and paper, watching the currents of wind moving through miles and miles of wheat."
In a place where drugs, gangs, religious zealotry, racism and homophobia claimed the lives of young people, it was difficult to know where to turn. When it became public knowledge in her community that Sabrina was a lesbian, it only intensified her sense of displacement and isolation, "I went from homecoming queen to pariah. I was constantly judged for my sexuality. I was met with hostility, hatred and fear. I couldn't even walk into the grocery store without becoming the subject of someone's cruel joke. People wouldn't look me in the eye, and I constantly feared that I would be violently assaulted or killed simply because of my sexual orientation."
After submitting art and poetry in an online group called Inspire Art, (a global community created by Sarah Fimm as call to artists, dreamers, musicians, poets, scientists and anyone that wants to use their talents for human rights and collaborative projects), Sabrina visited Woodstock in the summer of 2012. During an event known as The Sparkle Park at The Bearsville Theater, (created by Sarah Fimm as a combined show and art installation that saved the sight of over 60 people through the SEVA Foundation), Sabrina would discover her place in a burgeoning community of artists and dreamers. She has since been working alongside legendary musicians and creators alike on several projects.
Over the past few months, Sabrina has had the opportunity to gain experience as an assistant director on film sets, record poems in the studio with Pete Caigan at Flymax Recording, create music videos for instrumental compositions, assemble a complete anthology of her poetry thus far that spans hundreds of pages, film live performances of local musicians, and create paintings. Sabrina has been putting the voice her experiences gave her into a wide variety of creative projects, "I am so grateful for the sense of family I have found in this community. The people I have encountered have enriched my life with beautiful lessons and experiences in the realm of art. In all things I do, I hope to inspire love, healing, connectivity and compassion and to help other artists find roads the way that I did."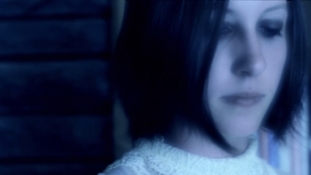 photo by Heyrick Chassé
Silent Epiphanies
Silent epiphanies effloresce
In this unbalanced chemistry,
Waiting for the light caress
To permeate this symmetry.
Beyond the wingèd sun extending,
Emulsified in arms that cleanse,
A golden light is ever mending
To purify the dimming lens.
Reaching through the silent tide
To speak of this prohibited heart,
So you can see this from inside
And pull these flimsy threads apart.
Unbinding all the endless love
Waiting before the steady gaze
That watches me as if above
My self-constructed, endless maze.
The chambered door within your smile,
(Aureate soliloquies encasing),
Was looking at me all the while
I was lost in thoughtful pacing.
It weeps within the broken spirit,
Withered in the truth's denial;
Waiting for my mind to hear it
As it walks along this measured mile.
Adhering me against the wall,
Distant as the orb of night.
Waiting for the axe to fall
And bring this rogue into the light.
To recognize within the mirror
The path that I am choosing,
To hear the urgent message clearer
And calculate what I am losing.
I feel it pouring through this chest
That heaves the labored breath of will.
I'll ride this wave unto its crest
To rage in fury 'til all is still.
To breathe into this pressing phrase,
That is a thief of restful thought,
That tortures me in subtle ways
And keeps the only thing I sought.
The gentleness that was my peace
Submerged me in a depthless sea.
And through its light, it would not cease
To always draw you next to me.
The universe within the sphere
That liquefied the quieted face,
Burst from an incipient tear
As it traveled varied levels in space.
A vision flashed across the skies
And only silence was found.
So I wiped its colors from my eyes
And heard again the life of sound.
As silent epiphanies effloresce
Within my wandering mind,
There is a love I've yet expressed -
So love is then confined.
But beyond the wingèd sun extending,
Emulsified in arms that cleanse,
A golden light is ever mending
To purify the dimming lens.
-Sabrina Miller
*
Richard Parisio - Richard Parisio has worked as an interpretive naturalist for over forty years, in the Florida Everglades and in New York's Catskill Mountains and Hudson Valley. He is a nature columnist for the local newspaper in New Paltz, NY, where he lives and writes. His poems have appeared in three regional anthologies and in a number of journals, including The Kerf, Spillway and Common Ground Review, and his poetry collection The Owl Invites Your Silence won the Slapering Hol Press 2014 Poetry Chapbook Prize.
Parisio is NYS Coordinator for River of Words, a national children's poetry contest on the theme of watersheds, and teaches nature poetry classes for children in local schools, and for adults in the New Paltz chapter of the Lifetime Learning Institute. He enjoys hiking in the Shawangunk mountains, and is an active member of Mohonk Preserve.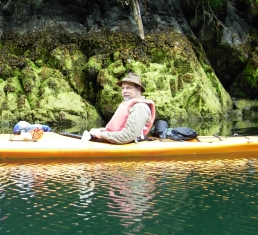 January's Owl
Study the eye of this hollow elm,
bark gone, trunk weathered rainy
grey. Look at its hole look back
at you, its cinnamon colored pupil
a screech owl's head. Whistle
his quavering call, the lonesome
whinny of a mare, her foal
gone missing. But this owl hole
is a focus for the quiet marsh,
its raft of seasonal gains and losses.
The sleeping owl with tufts
that are not ears invites
your silence. He does not stir
but in his dream the tracks
of mice stitch up the clean white
sheet of winter. With his needle
talons the owl by moonlight
tears the black thread out, his hook
beak finds the small furred
heart beneath that coverlet.
Whistle again. He hardly squints.
For all is as it should be. For each
death a feather is placed upon the scale.
From its fob of silence
winter hangs a watchfulness.
and a fierce heart clarified by hunger
ticks through the sleep of days.
-Richard Parisio
***
Developing 2015 Schedule all readings at Golden Notebook (Upstairs)
01/January 10th – Ken Holland; Perry S. Nicholas (postponed)
02/February 14th – Cheryl Rice; Glenn Werner
03/March 14th – Leonard Brown; Perry S. Nicholas
04/April 11th – Richard Parisio; Sabrina Miller
05/May 9th – Christian Ortega; Victoria Sullivan
06/June 13th – Andy Clausen; Pamela Twining
07/July 11th – Donald Lev; Lucia Cherciu
08/August 8th – Kathy Z. Price; Sharon Gannon
09/September 12th – Kenneth Salzmann; TBA
10/October 10th – Barbara Ungar; John Amen
11/November 14th – Marcia Slatkin; TBA
12/December 12th – George Wallace; TBA and Annual Business Meeting

Also, why not become a 2015 Member of the Woodstock Poetry Society & Festival?
Membership is a nominal $15 a year. (To join, send your check to the Woodstock Poetry Society, P.O. Box 531, Woodstock, NY 12498. Include your email address as well as your mailing address and phone number. Or join online at: www.woodstockpoetry.com/become.html). Your membership helps pay for meeting space rental, post-office-box rental, the WPS website, and costs associated with publicizing the monthly events. One benefit of membership is the opportunity to have a brief biography and several of your poems appear on this website.