Woodstock Poetry Society
Featured Reading and Open Mike
Saturday, September 12th, 2015 at 2pm
Golden Notebook (Upstairs)

Kenneth Salzmann
Susan Hoover

Poets Kenneth Salzmann and Susan Hoover will be the featured readers, along with an open mike when the Woodstock Poetry Society & Festival meets at Golden Notebook (Upstairs), 29 Tinker Street on Saturday, September 12, 2015 at 2pm. Note: WPS&F meetings are held the 2nd Saturday of every month at Golden Notebook (Upstairs).

Note the venue - we will be at Golden Notebook (Upstairs) for this reading and throughout 2015. Thanks Jacqueline, and all at Golden Notebook.

Golden Notebook (Upstairs)
29 Tinker Street
Woodstock, NY 12498
www.goldennotebook.com
845-679-8000

Woodstock Poetry Society & Festival as part of the Woodstock Arts Consortium is sponsoring this poetry event as part of the Woodstock "Second Saturdays" Art Events. For a full listing of "Second Saturday" events, see: www.artsinwoodstock.org.

The reading will be hosted by poet Phillip X Levine. All meetings are free, open to the public, and include an open mike.

*
Features:

Kenneth Salzmann - Kenneth Salzmann is a writer and poet whose work has appeared in numerous newspapers, magazines, and literary journals, including Memoir (and), Rattle, The Comstock Review, Home Planet News, Sow's Ear Poetry Review, Chronogram, and many others. His poetry also appears in such anthologies as Reeds and Rushes: Pitch, Buzz and Hum, Child of My Child: Poems and Stories for Grandparents, Beloved on the Earth: 150 Poems of Grief and Gratitude, Riverine: An Anthology of Hudson Valley Writers, and The Heart of All That Is: Reflections on Home. For the past four years, he has been a poetry judge for the Next Generation Indie Book Awards, and also served as a judge for the 2012 Reuben Rose poetry contest sponsored by "Voices Israel." This year, he was one of twelve poets invited to take part in Marge Piercy's juried poetry intensive on Cape Cod. He lives in Woodstock and Ajijic, Mexico, with his wife, editor Sandi Gelles-Cole.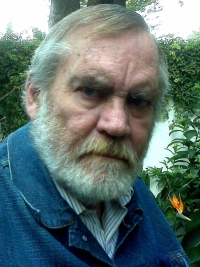 Paul Desmond's Last Date at Symphony Hall, Boston
So many have walked this wall
in just this way that their footfalls, too,
are beaten in sambas and rondos
into the hidden tempo of the street;
yours come down at stage door
in five-four paces,
encircling ghostly wisps of breath,
gathering again in a new confusion
of entrances and exits reedy melodies
drawn from a muscle memory of riffs
that how often have skitted
through those horns
in cool approximations of redemption.
-Kenneth Salzmann
*
Susan Hoover - Published poet, performance artist, teacher, featured reader at The New School, The Knitting Factory, The Kitchen, and Cornelia Street Café in New York City. Regional performances include several Out Loud Festivals, Woodstock Poetry Festivals, Colony Arts Center, the Albert Shahinian Fine Arts Gallery, Woodstock Artist's Association, and a member of All Right! Girls, a poetry performance group with Nancy Rullo and Janice King. Her publications include Cold Mountain Review, Isinglass Review, Cover Arts New York, University of Colorado Literary Magazine, EPT, Dark Thirty, Home Planet News, Chronogram, and Granite. She teaches poetry through Teachers & Writers Collaborative in New York City. Her books include The Magnet and The Target (The New School Chapbook Series, 1995), and Taxi Dancer (Exotic Beauties Press, 1979), and the anthology, As If The World Had Not Known Sorrow (The Poets Press, 1986). The Mathematics of Disengagement (Post Traumatic Press) is forthcoming this fall.

"...poems so strong they hurt...a breakthrough, sometimes roller-coaster journey of language and an emotional tenderness and toughness of the highest quality."- -Jason Shinderz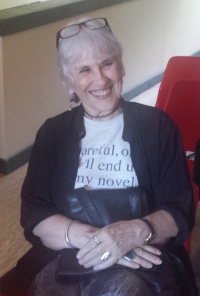 Going On Despite
Again you have gone
Having arrived for a moment's visit
With a year's baggage of the mind.

Unsteadied yet valient,
Invisible as the wind
Twisting through a doorway
Stirring up duststorms,
You whirled like a dervish
Into some corner where
Loneliness and missed moments
Collided before taking silent refuge
In abandoned buildings you designed
Of a future human hope hangs on to,
Looking for roots and
Reeling through dreams while
Praying to pray.
-Susan Hoover
*
Developing 2015 Schedule all readings at Golden Notebook (Upstairs)
01/January 10th – Ken Holland; Perry S. Nicholas (postponed)
02/February 14th – Cheryl Rice; Glenn Werner
03/March 14th – Leonard Brown; Perry S. Nicholas
04/April 11th – Richard Parisio; Sabrina Miller
05/May 9th – Christian Ortega; Victoria Sullivan
06/June 13th – Andy Clausen; Pamela Twining
07/July 11th – Donald Lev; Lucia Cherciu
08/August 8th – Kathy Z. Price; Sharon Gannon
09/September 12th – Kenneth Salzmann; Susan Hoover
10/October 10th – Barbara Ungar; John Amen
11/November 14th – Lisa Wiley; Marcia Slatkin
12/December 12th – George Wallace; Mark Statman and Annual Business Meeting

Also, why not become a 2015 Member of the Woodstock Poetry Society & Festival?
Membership is a nominal $15 a year. (To join, send your check to the Woodstock Poetry Society, P.O. Box 531, Woodstock, NY 12498. Include your email address as well as your mailing address and phone number. Or join online at: www.woodstockpoetry.com/become.html). Your membership helps pay for meeting space rental, post-office-box rental, the WPS website, and costs associated with publicizing the monthly events. One benefit of membership is the opportunity to have a brief biography and several of your poems appear on this website.