Woodstock Poetry Society
Featured Reading and Open Mike
Saturday, August 8th, 2015 at 2pm
Golden Notebook (Upstairs)

Kathy Z. Price
Sharon Gannon

Poets Kathy Z. Price and Sharon Gannon will be the featured readers, along with an open mike when the Woodstock Poetry Society & Festival meets at Golden Notebook (Upstairs), 29 Tinker Street on Saturday, August 8, 2015 at 2pm. Note: WPS&F meetings are held the 2nd Saturday of every month at Golden Notebook (Upstairs).

Note the venue - we will be at Golden Notebook (Upstairs) for this reading and throughout 2015. Thanks Jacqueline, and all at Golden Notebook.

Golden Notebook (Upstairs)
29 Tinker Street
Woodstock, NY 12498
www.goldennotebook.com
845-679-8000

Woodstock Poetry Society & Festival as part of the Woodstock Arts Consortium is sponsoring this poetry event as part of the Woodstock "Second Saturdays" Art Events. For a full listing of "Second Saturday" events, see: www.artsinwoodstock.org.

The reading will be hosted by poet Phillip X Levine. All meetings are free, open to the public, and include an open mike.

*
Features:

Kathy Z. Price - Kathy Z. Price is the author of the award winning picture book, The Bourbon Street Musicians, Clarion/Houghton Mifflin 2002, which received a starred review from ALA Booklist, an NCTE 2003 Notable Book Award, a New York Times Book Review and is included in Best Children's Books of the Year, 2003 by Bank Street College. She is also a recipient of a 2005 New York Foundation for the Arts Fellowship in Poetry. Her poetry is included in Aloud: Voices from the Nuyorican Poet's Café, African Voices, The World and Longshot. She's a performance poet who has performed her work at Lincoln Center, St Marks Poetry Project, and The Whitney Museum as well as performances in Central America and Europe. Ms Price is also the editor of A Gathering of the Tribes #11, noted by Toni Morrison as "a beautiful magazine"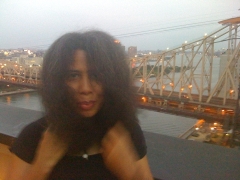 Picnic
the car seats smelled of hot ham sand
wiches my mother packed but my aunt suck
ed fat off pickled feet pig's feet
fat in her mouth the car
skidded and rocked fur

iously my aunt 8 months pregnant
crouched down on the floor and
the car still smelled
of pig's feet and what a sis
sy she was trying to hide
her stomach if the car shat
tered so would her stomach
and so
that's life isn't dying too and at 8
i already knew
-Kathy Z. Price
*
Sharon Gannon - Sharon Gannon is perhaps best known for co-creating, the Jivamukti Yoga method, a path to enlightenment through compassion for all beings. She has authored eight books and her political/mystical essays, stories and poems have appeared in many publications, including Arcana V-music, magic and mysticism edited by John Zorn and What Comes After Money edited by Daniel Pinchbeck. On Sat Aug 8th she will read poems from her soon to be published book, Magic is a Shift in Perception-five decades of poems. www.jivamuktiyoga.com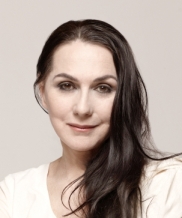 Speaking
Thoughts, which are of the air,
become spoken words through the element of fire
by means of friction
meaning becomes apparent by rubbing against something else,
then cooled to crystal through the medium of water,
the saliva necessary to speak.
-Sharon Gannon
***
Developing 2015 Schedule all readings at Golden Notebook (Upstairs)
01/January 10th – Ken Holland; Perry S. Nicholas (postponed)
02/February 14th – Cheryl Rice; Glenn Werner
03/March 14th – Leonard Brown; Perry S. Nicholas
04/April 11th – Richard Parisio; Sabrina Miller
05/May 9th – Christian Ortega; Victoria Sullivan
06/June 13th – Andy Clausen; Pamela Twining
07/July 11th – Donald Lev; Lucia Cherciu
08/August 8th – Kathy Z. Price; Sharon Gannon
09/September 12th – Kenneth Salzmann; TBA
10/October 10th – Barbara Ungar; John Amen
11/November 14th – Marcia Slatkin; TBA
12/December 12th – George Wallace; TBA and Annual Business Meeting

Also, why not become a 2015 Member of the Woodstock Poetry Society & Festival?
Membership is a nominal $15 a year. (To join, send your check to the Woodstock Poetry Society, P.O. Box 531, Woodstock, NY 12498. Include your email address as well as your mailing address and phone number. Or join online at: www.woodstockpoetry.com/become.html). Your membership helps pay for meeting space rental, post-office-box rental, the WPS website, and costs associated with publicizing the monthly events. One benefit of membership is the opportunity to have a brief biography and several of your poems appear on this website.