Woodstock Poetry Society
Featured Reading and Open Mike
Saturday, December 13, 2014 at 2pm
Golden Notebook (Upstairs)

Dennis Sullivan
Joe Krausman
(Ken Holland-postponed)

Poets Dennis Sullivan and Joe Krausman will be the featured readers, along with the WPS Annual Business Meeting and an open mike when the Woodstock Poetry Society & Festival meets at Golden Notebook (Upstairs), 29 Tinker Street on Saturday, December 13, 2014 at 2pm. Note: WPS&F meetings are held the 2nd Saturday of every month at Golden Notebook (Upstairs). Ken Holland had to postpone.

Note the venue - we will be at Golden Notebook (Upstairs) for this reading and throughout 2014. Thanks Jacqueline, and all at Golden Notebook.

Golden Notebook (Upstairs)
29 Tinker Street
Woodstock, NY 12498
www.goldennotebook.com
845-679-8000

Woodstock Poetry Society & Festival as part of the Woodstock Arts Consortium is sponsoring this poetry event as part of the Woodstock "Second Saturdays" Art Events. For a full listing of "Second Saturday" events, see: www.artsinwoodstock.org.

The reading will be hosted by poet Phillip X Levine. All meetings are free, open to the public, and include an open mike.

*
Features:

Dennis Sullivan - Dennis Sullivan lives in Voorheesville, New York with his wife Georgia Gray, their daughter Kimberly (and her 13-inch beagle Ginger), and four cats: Taco, Stephanie, Clare, and Catherine (aka Slinky).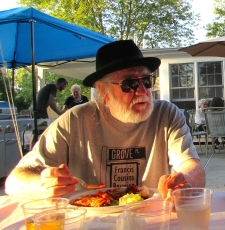 The Word
For Alfonsina Storni
I speak
When spoken to
I have no choice
It says, I speak.
If you prefer Muse, fine
El duende, fine again
Guardian angel ok too,
Even little bird.
Like Alfonsina I give thanks
For the gift of nature
As I walk about the house
Constrained by earthly sadness,
But think of your birthday
Or a Christmas when it snowed
And you got more gifts than Santa—
The word is better.
Think about life eternal—
The word is better.
The word is a nurse
Who comes by your bed when you are ill
And speaks to you
You feel good
You get up
You get dressed
You shake off the cobwebs
You make a drink
Get a favorite book
And encounter life—
The feeling of the drink,
The turn of phrase,
The late afternoon sun
Pouring through the blinds—
And though bearded Charon waits
With his pole on River Styx
The word urges you on
You write you sing
You tell the guy next door
Who understands, but
He does not speak when spoken to
He wants to choose.
It says and he keeps walking
Toward the deadly hell of Acheron—
The hapless fool—
He will not speak when spoken to.
The word is the golden bough
That saves the loving heart
From fields of empty mourning
Whose leaves abate the senseless heat
That assails the souls in purgatory.
-Dennis Sullivan
—March 28, 2013
—2:25 am
—Voorheesville, NY

*
Joe Krausman - Joe Krausman is a writer, poet, theater director, and former senior legislative analyst and staff writer with the New York State Assembly. He was the MCA Fellow in Playwriting at Smith College. His plays have been staged in New York City, Iowa, Northampton, Amherst, Holyoke. Krausman also received the Massachusetts Fiction writing Fellowship from the University of Massachusetts where he obtained an MFA in Fiction writing. He also has participated in many poetry readings and he has published plays, short stories, non-fiction, and poetry.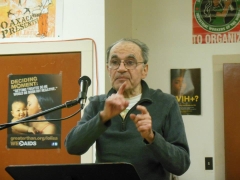 Only One to a Customer
At the restaurant called "Your Life"
you don't know how to take.
So you nibble around the edges.
The tables are overflowing-
The cherries must be taken
before they rot,
the ice cream must be eaten
before it melts.
You don't hear the music-
At the bar you ask for tap water,
but they are serving
fine wine and five star brandy,
You ask the bartender
for another round,
he says, "Only one to a customer. "
It's nearing closing time,
such a waste.
It could have been
The Great Feast.
You will leave empty.
When you came in
your pockets were jingling
with gold coin.
-Joe Krausman
***
2014 Schedule

01/January 11th – Darcy Smith; Tim Dwyer & 2013 Annual Business Meeting
02/February 8th – Gary Siegel; Joanne Pagano Weber
03/March 8th – Marina Mati; Robert Milby
04/April 12th – Dennis Wayne Bressack; Donald Lev
05/May 10th – Karen Schoemer; Timothy Brennan
06/June 14th – Rebecca Schumejda; Theodore Phelps
07/July 12th – Anique Taylor; Sparrow
08/August 9th – Alison Koffler; Jo Pitkin
09/September 13th – Lee Slonimsky; Sarah Van Arsdale
10/October 11th – Richard Loranger; Teresa Costa
11/November 8th – Lee Gould; Norma Bernstock
12/December 13th – Dennis Sullivan; Joe Krausman & 2014 Annual Business Meeting

Also, why not become a 2014 Member of the Woodstock Poetry Society & Festival?
Membership is a nominal $15 a year. (To join, send your check to the Woodstock Poetry Society, P.O. Box 531, Woodstock, NY 12498. Include your email address as well as your mailing address and phone number. Or join online at: www.woodstockpoetry.com/become.html). Your membership helps pay for meeting space rental, post-office-box rental, the WPS website, and costs associated with publicizing the monthly events. One benefit of membership is the opportunity to have a brief biography and several of your poems appear on this website.