Woodstock Poetry Society
Featured Reading and Open Mike
Saturday, May 10, 2014 at 2pm
Golden Notebook (Upstairs)

Karen Schoemer
Timothy Brennan

Poets Karen Schoemer and Timothy Brennan will be the featured readers, along with the WPS Annual Business Meeting and an open mike when the Woodstock Poetry Society & Festival meets at Golden Notebook (Upstairs), 29 Tinker Street on Saturday, May 10, 2014 at 2pm. Note: WPS&F meetings are held the 2nd Saturday of every month at Golden Notebook (Upstairs).

Note the venue - we will be at Golden Notebook (Upstairs) for this reading and throughout 2014. Thanks Jacqueline, and all at Golden Notebook.

Golden Notebook (Upstairs)
29 Tinker Street
Woodstock, NY 12498
www.goldennotebook.com
845-679-8000

Woodstock Poetry Society & Festival as part of the Woodstock Arts Consortium is sponsoring this poetry event as part of the Woodstock "Second Saturdays" Art Events. For a full listing of "Second Saturday" events, see: www.artsinwoodstock.org.

The reading will be hosted by poet Phillip X Levine. All meetings are free, open to the public, and include an open mike.

*
Features:

Karen Schoemer - Karen Schoemer is a poet and author living in Columbia County, New York. Her poetry has appeared in Chronogram and Zephyrs: The Journal of the Millay Society. She has released two spoken-word EPs, Schoemer Songs and Falling in Lilacs, on the Indianapolis label Third Uncle Records. Her poem "Julia in Her Room" won honorable mention in the 2012 Hudson Valley Writers Guild poetry contest. She is the author of the non-fiction book Great Pretenders: My Strange Love Affair with '50s Pop Music (Free Press, 2006), and her music criticism has appeared in a number of publications and anthologies, including Innocent When You Dream: The Tom Waits Reader and Leonard Cohen on Leonard Cohen: Interviews and Encounters. She is the books manager at the Spotty Dog in Hudson, NY and hosts "The Schoemer Show," a weekly music show on WGXC 90.7 FM in Hudson.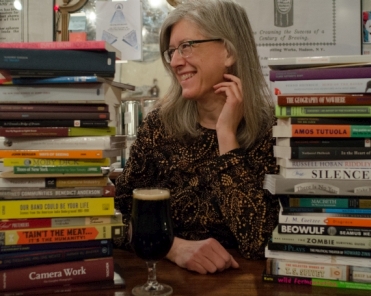 Couplets

It's quiet on this mountain ledge
as if the rocks were thinking

about how they came to rest
where they rest

or asking why this peak
and not another

with this view of river fields and steeples
and not another

in the slow aftermath
or stilled anticipation of motion

do they note the haze of spring
or the peculiar brown of March grass

do they remember the hotel that stood here
bridal white in the morning light

or rue carvings
and glacial teeth

do they consider themselves
a monument to the wind
-Karen Schoemer
*
Timothy Brennan - Timothy Brennan is a poet, painter and woodworker who has lived and worked in San Francisco, in Brooklyn, and now in New Paltz, where he has been renovating his old house for over twenty years with no end in sight.
His poems have been published in Chronogram, Awosting Alchemy, and in the 2011 edition of the Wallkill Valley Writers' Anthology. Some new poems will be included in the 2014 edition of the WVW Anthology.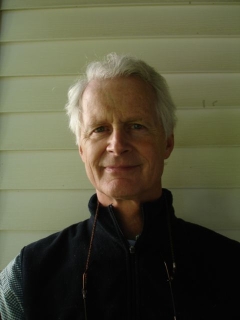 At The Party
At the party men crowd my wife
mutter foolish words
competing for her attention. They
bring her drinks
and hors d'oeuvres
tell absurd stories
and ask her to dance.
She throws her head back
and laughs like a school girl
as she smokes their cigarettes
her lipstick
shining brightly in the soft light
against blond hair, and pale eyes
while deep in the shadows
my blue eyes grow narrow
and dark and I hold
my jealous rage
like a thin glass bowl
trembling, and slightly
too large
for my arms.
-Timothy Brennan
***
2014 Schedule

01/January 11th – Darcy Smith; Tim Dwyer & 2013 Annual Business Meeting
02/February 8th – Gary Siegel; Joanne Pagano Weber
03/March 8th – Marina Mati; Robert Milby
04/April 12th – Dennis Wayne Bressack; Donald Lev
05/May 10th – Karen Schoemer; Timothy Brennan
06/June 14th – Rebecca Schumejda; Theodore Phelps
07/July 12th – Anique Taylor; Sparrow
08/August 9th – Alison Koffler; Jo Pitkin
09/September 13th – Lee Slonimsky; Sarah Van Arsdale
10/October 11th – Richard Loranger; Teresa Costa
11/November 8th – Lee Gould; Norma Bernstock
12/December 13th – Dennis Sullivan; Joe Krausman & 2014 Annual Business Meeting

Also, why not become a 2014 Member of the Woodstock Poetry Society & Festival?
Membership is a nominal $15 a year. (To join, send your check to the Woodstock Poetry Society, P.O. Box 531, Woodstock, NY 12498. Include your email address as well as your mailing address and phone number. Or join online at: www.woodstockpoetry.com/become.html). Your membership helps pay for meeting space rental, post-office-box rental, the WPS website, and costs associated with publicizing the monthly events. One benefit of membership is the opportunity to have a brief biography and several of your poems appear on this website.