Woodstock Poetry Society
Featured Reading and Open Mike
Saturday, September 9th, 2017
**SPECIAL TIME**
11:30am
Golden Notebook (Upstairs)

Joanne Pagano Weber
Mary Makofske
Artist/Writer/Educator Joanne Pagano Weber and poet Mary Makofske will be the featured readers, along with an open mike when the Woodstock Poetry Society & Festival meets at Golden Notebook (Upstairs), 29 Tinker Street on Saturday, September 9th, 2017 at a special time of 11:30am.

Note: WPS&F meetings are held the 2nd Saturday (usually at 2pm) of every month at Golden Notebook (Upstairs).

Golden Notebook (Upstairs)
29 Tinker Street
Woodstock, NY 12498
www.goldennotebook.com
845-679-8000

The reading will be sub-hosted by poet Bruce Weber. All meetings are free, open to the public, and include an open mike.

*
Features:

Joanne Pagano Weber- Joanne Pagano Weber is a visual artist, a writer, and educator. In recent years she has collaborated with the sculptor Janice Mauro on cross-disciplinary installations, including text, which combine humor and social critique concerning the ramifications of global warming. She teaches Fine Art at the College of Mount Saint Vincent in The Bronx, New York.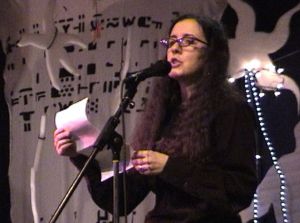 Opening Excerpt from "Bonnie-Jo"

My cousin Bonnie-Jo was not adopted although I have to say, she seemed to be from a different tribe – a different species, even, than the rest of us Italian kids growing up in the Belmont. She got her, "unusual "name because, for the first time in their long marriage, my Aunt Josephine stood up to my Uncle Bonifacio. Mind you, I never heard my aunt speak, so to express – to assert – an opinion was momentous indeed. Of course, I wasn't there to witness the event – I was born four years later. It was a story that my grandmother, Aunt Josephine's mother, loved to tell when we were alone amongst the female cosa nostra: my mother, aunts, and assorted privileged cousins who understood the code of silence.

As Grandma reached the climax, Aunt Jo would throw back her head and let out a vacant, open-mouthed laugh that only dogs with wings could hear, to think that she had got her way with her husband, who insisted that their third child – but first daughter – be named after his mother Concetta-Serafina.

"No!" shouted Aunt Josephine, startling Uncle Bonifacio into a moment of dictatorial torpor. "We name her after you – and me!" And Aunt Jo closed her eyes and slammed the table with the rolling pin that she happened to have in her hand just then. And she never spoke again.

-Joanne Pagano Weber

*

Mary Makofske - MARY MAKOFSKE'S latest book is World Enough, and Time (Kelsay, 2017). Her book Traction (Ashland, 2011) won the Richard Snyder Prize. Her other books are The Disappearance of Gargoyles and Eating Nasturtiums, winner of a Flume Press chapbook competition. Her poems have appeared recently in Southern Poetry Review, Poetry East, Slant, Antiphon, Stone Canoe, The Stillwater Review, Earth's Daughters, Calyx, Whale Road Review, and other journals and in seventeen anthologies. She received 2nd place in the 2015 Paterson Literary Review Allen Ginsberg Awards and has been nominated for the Pushcart Prize four times. A resident of Warwick, NY. she's read at colleges, libraries, bookstores, and literary societies, loves gardening, and dotes on her grandsons.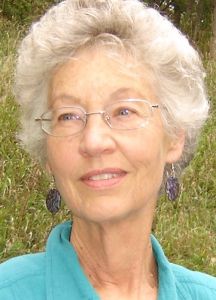 Deadeye: A Photo of Myself, Age Five

Except for one stray lock, the girl
has tucked her hair beneath the cowboy hat
and stands face front to the camera,
her legs spread slightly, feet
in her Roy Rogers boots toed out.
Hands on hips, she stares straight at me,
squints one eye as if taking a bead
even before she whips the six-gun
from its holster. Deadeye,
her father called her. That loaded
gaze which says, There's not room
in this town for both of us. She looks
invincible, bound to increase her legend.

Once at naptime she left her sleeping
mother, pulled a dining room chair
to the door, and still unable to reach
the three chain locks, piled telephone books
slippery back to back to hoist herself up.
An outlaw of bone and wiry muscle,
they can't make her eat, not even
her mother's famous fried chicken,
except for the golden crisp crust.

She knows what whets her own
appetite, wants to dig her spurs
into the world's curved side
and break it. Clear out by sundown,
those eyes warn me. Nothing symmetrical
about her, all odd angles and furious
intention. The near-smile cocked
and boasting, I see right though you,
though she can't, of course, see me
at all, my sardonic smile, my squint
at her threat: You'll never get away with this.

-Mary Makofske
from the author's book World Enough, and Time (Kelsay)

Developing WPS 2017 Schedule - all readings at Golden Notebook (Upstairs)

01/January 14th – Elizabeth J. Coleman; Lee Slonimsky
02/February 11th – Janet Hamill; Pauline Uchmanowicz
03/March 11th – Perry Nicholas; Peter Coco
04/April 8th – Matthew J. Spireng; Richard Levine
05/May 13th – Joel Lewis; Kate Reese Hurd
06/June 10th – Karen Corinne Herceg; Mike Jurkovic
07/July 8th – Donald Lev; Howard J. Kogan
08/August 12th – Paul Nash and the "Palisades Poets"
(John J. Trause, Denise La Neve, Josh Humphrey, Susanna Rich, Mort Rich, ...)
09/September 9th at 11:30am – Joanne Pagano Weber; Mary Makofske
10/October 14th – John Amen; Ken Holland
11/November 11th – Cate McNider; Laurence Carr
12/December 9th – Dante Kanter; Otis Kidwell Burger; and Annual Business Meeting

Also, why not become a 2017 Member of the Woodstock Poetry Society & Festival?

Membership is $20 a year. (To join, send your check to the Woodstock Poetry Society, P.O. Box 531, Woodstock, NY 12498. Include your email address as well as your mailing address and phone number. Or join online at: www.woodstockpoetry.com/become.html). Your membership helps pay for meeting space rental, post-office-box rental, the WPS website, and costs associated with publicizing the monthly events. One benefit of membership is the opportunity to have a brief biography and several of your poems appear on this website.