Woodstock Poetry Society
Featured Reading and Open Mike
Saturday, June 10th, 2017 at 2pm
Golden Notebook (Upstairs)

Karen Corinne Herceg
Mike Jurkovic

Poets Karen Corinne Herceg and Mike Jurkovic will be the featured readers, along with an open mike when the Woodstock Poetry Society & Festival meets at Golden Notebook (Upstairs), 29 Tinker Street on Saturday, June 10th, 2017 at 2pm.

Note: WPS&F meetings are held the 2nd Saturday (2pm) of every month at Golden Notebook (Upstairs).

Golden Notebook (Upstairs)
29 Tinker Street
Woodstock, NY 12498
www.goldennotebook.com
845-679-8000

The reading will be hosted by poet Phillip X Levine. All meetings are free, open to the public, and include an open mike.

*
Features:

Karen Corinne Herceg - Karen Corinne Herceg graduated magna cum laude from Columbia University with a B.A. in Literature & Writing and has graduate credits in editing, revision and psychology. A recipient of N.Y. State grants, she has featured at major venues such as The New York Public Library, The Queens Museum, The Provincetown Playhouse, St. John's University, Binghamton Community Poets, C.A.P.S. (Calling All Poets Series) and many others with such renowned poets as Pulitzer Prize winners John Ashbery and Philip Schultz and poet William Packard, founder of The New York Quarterly. She has studied with David Ignatow, Philip Schultz and writer/novelist Glenda Adams. Karen was co-founder and editor of The First East Coast Theatre & Publishing Company which published poetry by Anna Adams, Stuart Kaufman, Roger Steigmeier and a novel by Charles Powers.

Her first volume of poems is Inner Sanctions. Nirala Publications released her second book, Out From Calaboose: New Poems, in November 2016. She publishes poetry, prose and essays in a variety of magazines and literary journals. Karen's most recent publications include Antioch University's Lunch Ticket Journal, The Avalon Literary Review, MockingHeart Review, Badlands, The Furious Gazelle, Thought Collection Journal, Kind of a Hurricane Press, The Writing Disorder, Literary Mama, Front Porch Review, Paulinskill Poetry Project, Orange Sullivan Magazine, Chronogram, Inkwell, Reminisce—a publication of Readers Digest-- and several publications in the U.K. Her work is read on various radio broadcasts, and she has been interviewed by The Epoch Times. Karen is currently working with Khalilah Ali, writing her memoirs as the former wife of the legendary Muhammad Ali.

Karen is a member of Poets & Writers, The Academy of American Poets, PEN America, The Poetry Society of America and C.A.P.S. and is a featured poet on the New York poetry scene. Her website is: www.karencorinneherceg.com and you can also follow her on Facebook, Twitter and Instagram.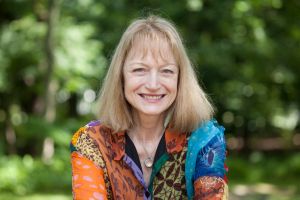 Two Olives, Please

Mommy takes a long swig of cocktail,
always a chance for blurt,
a revelation somehow
of something we never wanted.
Did you know,
and so it begins.
There's another sister somewhere,
on another shore,
another one of you.
Wide-eyed, my sister and I
pause
as she orders another martini.
Two olives, please.

This third remains unknown.
It was the war and Daddy was lonely,
she sighs and sips,
didn't know the possibility of us,
couldn't make it right on foreign shores.
He was blinded by Mommy's shiny allure,
undefined promises
beckoning him homeward.
So the baby disappeared
decades gone
into distant geography.
She shows up now,
amid swish and clink
at this luncheon of sly glances
and gaping mouths,
watching us silently
from another womb.

-Karen Corinne Herceg

*

Mike Jurkovic - Poems and music criticism have appeared globally but have yet to generate any reportable income. Full length collections, smitten by harpies & shiny banjo catfish (Lion Autumn Press, 2016) Chapbooks, Eve's Venom (Post Traumatic Press, 2014) , Purgatory Road (Pudding House Press, 2010). Anthologies include: WaterWrites & Riverine (Codhill Press, 2009, 2007), Will Work For Peace (Zeropanik, 1999). VP, Calling All Poets in New Paltz, NY. Producer of CAPSCASTS, archival recordings from Calling All Poets, available at www.callingallpoets.net. Music features, interviews & CD reviews appear in Elmore Magazine & the Van Wyck Gazette.
www.mikejurkovic.com

He loves Emily most of all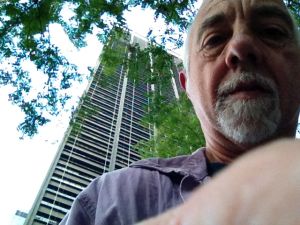 Two Wives Ago

It's a beautiful thing. Stockpiled.
Vacuum sealed. Purchased a little each pay day
for the last fifteen years
and two wives ago. Neither could see
my reasoning so I gave up trying.
You can only save yourself in the end.
Everyone else drains your supplies.

Dated. Rotated. Each 50mm can
checked monthly for corrosion.
In this room mostly corn meal
and 50lb bags of sugar.
A tunnel to the highway
shelved floor to ceiling
w/corn and tuna.

In this room alone, my water.

-Mike Jurkovic

*

Developing WPS 2017 Schedule - all readings at Golden Notebook (Upstairs)

01/January 14th – Elizabeth J. Coleman; Lee Slonimsky
02/February 11th – Janet Hamill; Pauline Uchmanowicz
03/March 11th – Perry Nicholas; Peter Coco
04/April 8th – Matthew J. Spireng; Richard Levine
05/May 13th – Joel Lewis; Kate Reese Hurd
06/June 10th – Karen Corinne Herceg; Mike Jurkovic
07/July 8th – Donald Lev; Howard J. Kogan
08/August 12th – Paul Nash and the "Palisades Poets"
(John J. Trause, Denise La Neve, Josh Humphrey, Susanna Rich, Mort Rich, ...)
09/September 9th – Mary Makofske; TBA
10/October 14th – John Amen; Ken Holland
11/November 11th – Cate McNider; Laurence Carr
12/December 9th – Dante Kanter; Otis Kidwell Burger; and Annual Business Meeting

Also, why not become a 2017 Member of the Woodstock Poetry Society & Festival?

Membership is $20 a year. (To join, send your check to the Woodstock Poetry Society, P.O. Box 531, Woodstock, NY 12498. Include your email address as well as your mailing address and phone number. Or join online at: www.woodstockpoetry.com/become.html). Your membership helps pay for meeting space rental, post-office-box rental, the WPS website, and costs associated with publicizing the monthly events. One benefit of membership is the opportunity to have a brief biography and several of your poems appear on this website.