Woodstock Poetry Society
Featured Reading and Open Mike
Saturday, July 8th, 2017 at 2pm
Golden Notebook (Upstairs)

Donald Lev
Howard J. Kogan
Poets Donald Lev and Howard J. Kogan will be the featured readers, along with an open mike when the Woodstock Poetry Society & Festival meets at Golden Notebook (Upstairs), 29 Tinker Street on Saturday, July 8th, 2017 at 2pm.

Note: WPS&F meetings are held the 2nd Saturday (2pm) of every month at Golden Notebook (Upstairs).

Golden Notebook (Upstairs)
29 Tinker Street
Woodstock, NY 12498
www.goldennotebook.com
845-679-8000

The reading will be hosted by poet Phillip X Levine. All meetings are free, open to the public, and include an open mike.

*
Features:

Donald Lev - Donald Lev was born in New York City in 1936. He attended Hunter College, worked in the wire rooms of the Daily News and New York Times, and then drove a taxi cab for 20 years (with a 6-year hiatus in which he ran messages for, and contributed poetry to, The Village Voice and operated the Home Planet Bookshop on the Lower East Side). His earliest poems appeared in print in 1958 and he started his first small press magazine, HYN Anthology, in 1969. Among his honors have been a Madeline Sadin Award from New York Quarterly in 1973 and a Life Time Achievement Award from the Catskill Reading Society/Outloudbooks in 2003. He was Distinguished Visiting Poet for the Northeast Poetry Center in Sugar Loaf, NY in July of 2012. In 2008 Outloudbooks brought out his The Darkness Above: Selected Poems 1968-2002 a sampling from the first four decades of his writing. A chapbook, Only Wings: 20 Poems of Devotion was published in 2010 by Presa Press in Michigan, and a new collection, A Very Funny Fellow, was brought out by NYQ Books in February, 2012. His most recent book, Where I Sit, was published by Presa Press in 2015. His brief underground film-acting career pinnacled with his portrayal (he wrote his own lines) of "The Poet" in Robert Downey Sr.'s 1969 classic Putney Swope. He lives in High Falls, NY, where he spends most of his time publishing the literary tabloid Home Planet News, which he and his late wife Enid Dame founded in 1979.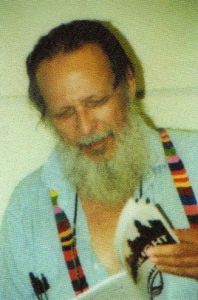 The Day

The churches and temples were not
As thronged as one would have thought.
Bars and restaurants were doing nicely,
But nothing to write home about.

Woodstock's pagans
Were beginning to gather
'Round bonfires on Overlook Mountain.

Some of the poets preferred Shiv's back yard,
Smoking up their weed and savoring the moment.
Others decided to take in the end of the world
In the guise of a sort of Superbowl Sunday,
Around their television sets
With nachos and cold beer.

I turned down a number of invitations,
Electing instead to stay at home,
As I knew we would have done
Were you still alive.

We would have held hands
Like children. You would have said something like
"I'm glad you're here," and I would have replied,
"Me too."

But you've been gone over ten years now,
So I'll just light a memorial candle and wait.

-Donald Lev

*

Howard J. Kogan - Howard J. Kogan is a psychotherapist and poet. He and his wife, Libby, live in the Taconic Mountains in rural Upstate New York. His poems have appeared in numerous magazines, poetry journals and collections. Of A Chill in the Air, his third collection, Howard says, "readers familiar with my earlier publications will see some of the same themes continued: family and friends, the so-called real and imaginary world I inhabit, and increasingly as I age, poems about aging and death. I wrote these poems for you, to engage and seduce you, to draw you close so I would feel less alone."

A Chill in the Air captures the wit and wisdom of Howard J Kogan,
telling stories in lyrical form of great importance and meaning.

Click here if you want to check out the book on Amazon.

Books will be available for sale and signing..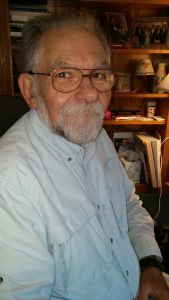 Senior Wellness

TIn our scary new world we've gone beyond
the simple metrics of pulse, blood, and breath
mere health won't do, what's needed now is wellness.

The road to wellness is littered with kale, flax seeds,
keenwa – you know, quinoa – couscous, tabbouli,
steel cut oatmeal and Icelandic yogurt.

The quest for wellness requires yoga, meditation,
luminosity brain training and dragging the sack of gristle
hanging from your neck to water aerobics, and zumba.

And don't forget to remember to keep one eye
on the scale, another on balance, a third on cholesterol,
a fourth on your BMI and a fifth on blood pressure.

The goal is to keep your blood pressure as low
as your IQ. Walking, did I mention brisk walking?
It doesn't matter where, all roads lead to the catacombs.

The regiment isn't all bad, a drop of red wine is allowed,
an occasional sliver of dark chocolate, and this clinging
to the reins of life, this puritan self-discipline is the sort of thrift

that appeals to seniors – a synapse saved is a synapse earned.
Certainly there can be no certainty only a hope pursued
in the light of chilly actuarial statistics, that if we eat well,

stay fit and lucky – we all need luck – a gentle death will find us
in our own bed running down like a wound clock, our main-spring
relaxed, its final tick- tock taken, the dread of Zumba over at last.

Have an apple love, don't step on the snake.

-Howard J. Kogan

*

Developing WPS 2017 Schedule - all readings at Golden Notebook (Upstairs)

01/January 14th – Elizabeth J. Coleman; Lee Slonimsky
02/February 11th – Janet Hamill; Pauline Uchmanowicz
03/March 11th – Perry Nicholas; Peter Coco
04/April 8th – Matthew J. Spireng; Richard Levine
05/May 13th – Joel Lewis; Kate Reese Hurd
06/June 10th – Karen Corinne Herceg; Mike Jurkovic
07/July 8th – Donald Lev; Howard J. Kogan
08/August 12th – Paul Nash and the "Palisades Poets"
(John J. Trause, Denise La Neve, Josh Humphrey, Susanna Rich, Mort Rich, ...)
09/September 9th – Mary Makofske; TBA
10/October 14th – John Amen; Ken Holland
11/November 11th – Cate McNider; Laurence Carr
12/December 9th – Dante Kanter; Otis Kidwell Burger; and Annual Business Meeting

Also, why not become a 2017 Member of the Woodstock Poetry Society & Festival?

Membership is $20 a year. (To join, send your check to the Woodstock Poetry Society, P.O. Box 531, Woodstock, NY 12498. Include your email address as well as your mailing address and phone number. Or join online at: www.woodstockpoetry.com/become.html). Your membership helps pay for meeting space rental, post-office-box rental, the WPS website, and costs associated with publicizing the monthly events. One benefit of membership is the opportunity to have a brief biography and several of your poems appear on this website.

(click here to close this window)