Woodstock Poetry Society
Featured Reading and Open Mike
Saturday, April 8th, 2017 at 2pm
Golden Notebook (Upstairs)

Matthew J. Spireng
Richard Levine

Poets Matthew J. Spireng and Richard Levine will be the featured readers, along with an open mike when the Woodstock Poetry Society & Festival meets at Golden Notebook (Upstairs), 29 Tinker Street on Saturday, April 8th, 2017 at 2pm.

Note: WPS&F meetings are held the 2nd Saturday (2pm) of every month at Golden Notebook (Upstairs).

Golden Notebook (Upstairs)
29 Tinker Street
Woodstock, NY 12498
www.goldennotebook.com
845-679-8000

The reading will be hosted by poet Phillip X Levine. All meetings are free, open to the public, and include an open mike.

*
Features:

Matthew J. Spireng - Matthew J. Spireng's book What Focus Is was published by WordTech Communications. His book Out of Body won the 2004 Bluestem Poetry Award and was published by Bluestem Press. He is also the author of five chapbooks, was first place winner in the 2015 Common Ground Review poetry contest and is an eight-time Pushcart Prize nominee.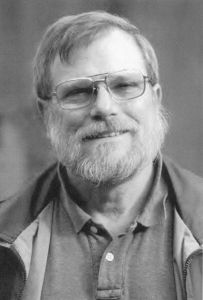 Route 23 to Stamford

Here the old barns
collapse in on themselves
like rotting bodies after
the bloat is gone,
for sale signs planted
at the edge of the road,
pastures growing up full of
weeds and the first small trees.
Even where a family has
held on, house freshly painted
a bright white, driveway sealed,
a 50-foot ash spreads from
the open hole of a topless silo
announcing they long-ago turned
to another way, rented fields
for hay and sold some acreage
where raised ranches cluster like
a small herd grazing on a distant ridge.

-Matthew J. Spireng
First published in Oberon.

*

Richard Levine - Richard Levine, retired teacher and Working Parties Family activist, is the author of That Country's Soul, The Cadence of Mercy, A Tide of a Hundred Mountains, A Language Full of Wars and Songs, and Snapshots from a Battle, and the Youtube videos: Judge Roberts, One Man, One Woman One Vote and The Talkin' Frackin' Blues.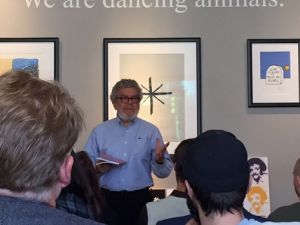 Bouquet

Out to walk and see
what a crescent of moon
was doing to the night,
I heard the long arc of wailing
coyotes, just as I stepped out
into a meadow, the open
space and sky being just
what I'd come out to take in.
They didn't sound close
and I didn't feel exposed,
even standing as I was
staring into eternity.

And out from the already
shaded days of this year's calendar,
a sharp-toothed breeze
at my back made me peek
over my shoulder. But sight
was a useless means of seeing
the force of life that overtook
and enveloped me and the world
in that meadow.

It was the scent of lilacs,
sugaring the air so thoroughly,
my nostrils flared just to know more
and the pores of my skin could tell
something about air they did not know
before that perfumed moment.

Though I knew she was asleep,
I wanted to wake and bring her
out to stand with me in this living
bouquet, with the bunched florets
of even the slightest arc of moon
blossoming on pools of night
that make coyotes cry.

-Richard Levine
(published in Stone Canoe, winter 2016)

*

Developing WPS 2017 Schedule - all readings at Golden Notebook (Upstairs)

01/January 14th – Elizabeth J. Coleman; Lee Slonimsky
02/February 11th – Janet Hamill; Pauline Uchmanowicz
03/March 11th – Perry Nicholas; Peter Coco
04/April 8th – Matthew J. Spireng; Richard Levine
05/May 13th – Joel Lewis; Kate Reese Hurd
06/June 10th – Karen Corinne Herceg; Mike Jurkovic
07/July 8th – Donald Lev; Howard J. Kogan
08/August 12th – Paul Nash and the "Palisades Poets"
(John J. Trause, Denise La Neve, Josh Humphrey, Susanna Rich, Mort Rich, ...)
09/September 9th – Mary Makofske; TBA
10/October 14th – John Amen; Ken Holland
11/November 11th – Cate McNider; Laurence Carr
12/December 9th – Dante Kanter; Otis Kidwell Burger; and Annual Business Meeting

Also, why not become a 2017 Member of the Woodstock Poetry Society & Festival?

Membership is $20 a year. (To join, send your check to the Woodstock Poetry Society, P.O. Box 531, Woodstock, NY 12498. Include your email address as well as your mailing address and phone number. Or join online at: www.woodstockpoetry.com/become.html). Your membership helps pay for meeting space rental, post-office-box rental, the WPS website, and costs associated with publicizing the monthly events. One benefit of membership is the opportunity to have a brief biography and several of your poems appear on this website.